Concerte Recomandate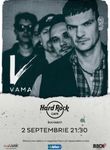 Concert Vama pe 2 septembrie la Hard Rock Cafe
Bucuresti, 02 Septembrie 2020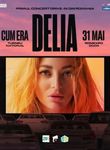 Delia - Primul concert Drive-IN din Romania
Bucuresti, 31 Mai 2020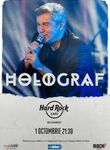 Concert Holograf pe 1 octombrie
Bucuresti, 01 Octombrie 2020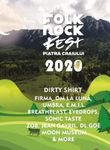 Folk Rock Fest Piatra Craiului
Zarnesti, 13 August 2020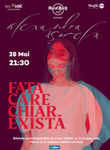 Concert Alexandra Usurelu - Fata care chiar exista pe 28 mai
Bucuresti, 28 Mai 2020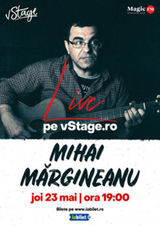 Mihai Margineanu Live pe vStage.ro
Mutam distractia la tine acasa cu un concert online alaturi de Mihai Margineanu, exclusiv pe vStage! Ne vedem pe data de 23 Mai la ora 19:00 pentru un show de exceptie. Biletele costa 50 de lei si se gasesc pe iabilet.ro In mailul...
Bucuresti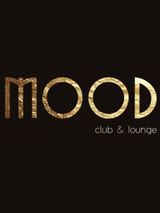 Brasov: The Motans @Club Mood
The Motans, concert in Brasov! Biletele se gasesc in format electronic pe www.iabilet.ro si in magazinele Flanco, Diverta, Carturesti, Metrou Unirii 1, Muzica, IQ BOX, Casa de Balet si pe terminalele Selfpay. Online, puteti plati cu...
Piața Sfatului, nr. 14, Brasov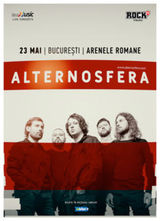 Concert Alternosfera la Arenele Romane
Pe 23 mai Alternosfera revine la Bucuresti cu un mare concert la Arenele Romane. Asa cum ne-am obisnuit deja, si acest eveniment va beneficia de o productie speciala, cu sunet, lumini si proiectii dedicate, iar trupa va sustine un program...
Arenele Romane

, Bucuresti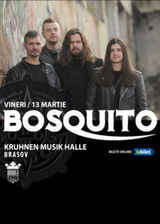 Braov: Concert Bosquito
Bosquito pleaca in tara cu turneul spring "SUS" tour 2020! Nota: Conform comunicatului emis de Ministerul Afacerilor Interne in data de 8 martie 2020, exista posibilitatea ca evenimentele care au loc in luna martie sa sa...
Kruhnen Musik Halle

, Brasov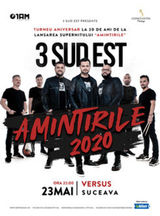 Suceava: Concert 3 Sud Est Amintirile 2020
Vino sa faci parte din visul unei generatii! Te invitam sa traiesti bucuria unui Concert Extraordinar la 20 de ani de la lansarea super hit-ului Amintirile. Iubitorii muzicii vor savura un altfel de concert 3 Sud Est, pentru care...
,
Termeni si conditii | Platforma pentru solutionarea online a litigiilor | Bilete
© copyright 2001 - 2020 BestMusic.ro