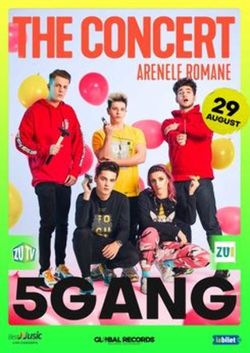 Prima editie a festivalului The Concert se reprogrameaza de la sfarsitul lui mai de la Romexpo pe 28 si 29 august la Arenele Romane tot in aer liber! Artistii din primele doua zile din The Concert (Carla's Dreams, The Motans, Irina Rimes, INNA + invitatii lor) vor canta pe 28 august iar 5Gang vor canta pe 29 august.
Organizatorii vor reveni curand cu un program complet.
Biletele si abonamentele deja cumparate raman valabile iar fanii nu trebuie decat sa vina cu ele la concert in ziua in care canta artistul lor preferat.
Biletele se gasesc pe www.iabilet.ro si in reteaua iabilet. Online, puteti plati cu cardul, Paypal,carduri de tichete culturale Sodexo, pe factura la Vodafone sau Orange sau ramburs prin Fan Courier oriunde in tara.
Biletele de o zi au urmatoarele preturi:
Acces General - 99 lei (Fara loc, in spatele Fan Zone)
Fan Zone - 139 lei (Fara loc, in fata scenei. Doar 500 de bilete)
VIP - 219 lei (Fara loc, pe platforma la inaltime cu bar dedicat. Doar 200 de bilete)
Un eveniment BestMusic Live Concerts si Global Records.