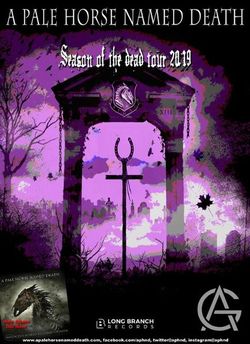 Club Capcana, Timișoara,
Timisoara
18 Octombrie 2019
//
30-50 LEI
Capcana and R&R Booking Romania presents A PALE HORSE NAMED DEATH featuring ex-members of Type O Negative and Life Of Agony plus support
APHND featuring ex-members of Type O Negative and Life Of Agony.
Beauty often blossoms at the root of darkness. A Pale Horse Named Death syphon strangely blissful melodies from apocalyptic heavy metal awash in swells of cavernous gothic keys and grunge songcraft. The New York quintet—Sal Abruscato [vocals, guitar], Eddie Heedles [guitar], Joe Taylor [guitar], Eric Morgan [bass], and Johnny Kelly [drums]—continue to excavate vulnerability from venom on their anxiously awaited third full-length album and first for SPV/Long Branch Records, When The World Becomes Undone. A delicate dichotomy drives the avowed and acclaimed "Brooklyn Lords of Doom."
"It's our signature combination of seemingly depressing and dark musical tones with unexpectedly pretty melodies," affirms Sal. "There's a hypnotic phenomenon that happens when you take super heavy riffs and add a harmonic sensibility. It allows you to drift off and zone out."
The group quietly carved out a singular lane since emerging from the borough in 2011. The band's debut And Hell Will Follow Me and its 2013 follow-up Lay My Soul To Waste both claimed spots among the coveted "Top 20 Albums of the Year" from Revolver Magazine in addition to garnering praise from Decibel, Terrorizer, and more. All the while, the songs clocked 2 million-plus total streams. A five-year gap preceded When The World Becomes Undone as Sal rejoined Life Of Agony, which he co-founded, for a triumphant comeback tour and contributed musical arrangements on the 2017 album, A Place Where There's No More Pain.
However, the album title When The World Becomes Undone stayed with him as he toured around the globe.
"The phrase When The World Becomes Undone came to me in 2014," he explains. "You could see what was beginning to happen in the world at large. Just turn on the news or look around. At the same time, there were a lot of crazy things happening in my personal life. Those struggles all became fuel for the music. It was like I had this partial sketch a while ago, and we finally filled it out this year. It evolved into what we have here."
Holding up in an upstate NY & Manalapan NJ studio during winter 2018, Sal combed through four years' worth of demos and ideas alongside his bandmates. Together, they chose the 13 songs that would comprise the record and tracked them. The time in between releases became something of a blessing in disguise.
"You need time for events to happen in life," says the frontman. "Rushing from record to record is a tall order. We were given the space to evolve and progress and embrace this diversity to keep things interesting." A Pale Horse Named Death introduce this opus with the upbeat graveyard anthem "Love The Ones You Hate." A riff that wouldn't be out of place in a fifties midnight horror double feature weaves in and out of Sal's brooding bellow as he croons, "Love the ones you love to hate, dancing devils in your parade." The song steamrolls forward on a fiery solo and unshakable groove as the melody spirals towards oblivion.
"It's about closure," he admits. "You're trying to move on and get over people that have come in your life and left. You may despise and even hate them, but you've got to forget about them. If you stay angry and enraged all the time, it's not healthy. That sums it up in a nutshell."
Dreamy keys underscore the expansive trudging dirge of the title track "When The World Becomes Undone." Sal's delicate delivery proves haunting as he "tackles a lot of heavy things in the past few years." Meanwhile, "Vultures" hinges on guttural guitars and a seasick chant that takes aim at "fair-weather friends that are here today and gone tomorrow." The sweeping cathedral-size wail of "Dreams in the End" builds a bridge into the conclusion "Closure," which draws from an actual funeral punctuated by the toll of ominous church bells.
Ultimately, the end never sounded so gorgeous.
"This is for the fans," he leaves off. "It had been a while. I didn't want to leave them hanging. I had a lot to say. There were struggles we're all going through and personal problems. I couldn't play it safe. I had to go deeper and talk about things that made me uncomfortable even. I'd love for everyone to feel like we're back doing what we were meant to."
www.facebook.com/APHND
www.apalehorsenameddeath.com
www.youtube.com/watch?v=KjtM5QJOvRk ('DMSLT' Music Video)
www.youtube.com/watch?v=AR-sMAI740E ('Die Alone' Audio)
www.youtube.com/watch?v=ZvWF1lRyYVY ('Vultures' taken from the new album 'When The World Comes Undone')
Biletele se gasesc in format electronic pe www.iabilet.ro si in magazinele Flanco, Diverta, Carturesti, Metrou Unirii 1, Muzica, IQ BOX, Uman, Casa de Balet si pe terminalele Selfpay. Online, puteti plati cu cardul, Paypal,carduri de tichete culturale Sodexo, pe factura la Vodafone sau Orange sau ramburs prin Fan Courier oriunde in tara.