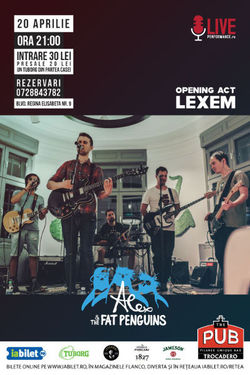 Bulevardul Regina Elisabeta, București 030167,
Bucuresti
20 Aprilie 2019
//
20 LEI
Alex & The Fat Penguins este o trupa de rock alternativ care s-a facut remarcata in zona indie pentru versurile inteligente, dar si pentru umorul si versatilitatea videoclipurilor.
Piesele lansate pana acum de Alex & The Fat Penguins abordeaza diverse teme sociale, inspirate din contemporaneitate, din micile si marile revolte, din strada si din suflet, in care suntem si actori si spectactori: "Just A Fool", "The Anatomy of My Soul", "Regele si Dragonul", "Broken Heart In A Motel" sau "Amiral".
Uite cum suna ce au lansat pana acum:
Just A Fool - https://youtu.be/K5BpAhjRwW8
Crazzy Drummer - https://youtu.be/tIxU0eSRKeI
Amiral (despre razboiul din Siria) - https://youtu.be/NH81MSzXRyk
Regele si dragonul - https://youtu.be/cpOvMRUyY9o
Piesele lor au fost difuzate la Radio Guerrilla, Tananana, RFI, Rock FM.
Piesa lor, "Anatomy of My Soul", a servit drept coloana sonora pentru prezentarea designer-ului Vera Parisescu la Strasbourg Fashion Week.
Rezervari: 0728 843 782
Lasa muzica buna sa te ghideze catre locul in care distractia intre prieteni e chiar la ea acasa! Ne vedem la Universitate, in spatele statuilor, pe Regina Elisabeta 9.
Pentru ca sprijini artistii si muzica live, prima bere e din partea casei!
Biletele se gasesc in format electronic pe www.iabilet.ro si in reteaua fizica iabilet.ro/retea: Magazinele Flanco, Diverta, Carturesti, Hard Rock Cafe, Cafe Deko, Club Vintage, Club Quantic, Expirat Halele Carol (in intervalul orar: 18:00-22:00), Beraria H, Metrou Unirii 1 langa casa de bilete Metrorex, Magazinul Muzica, Magazinele IQ BOX - Telekom, Agentiile Perfect Tour, Magazinele Uman, sediul librariei Libmag (Bulevardul I.C. Bratianu, nr. 6, Sector 3), Casa de balet si pe terminalele Selfpay din toata tara.
Online pe www.iabilet.ro, puteti plati cu Cardul, prin Paypal, pe factura la Vodafone sau Orange cu plata la sfarsitul lunii sau ramburs cu plata cash prin Fan Courier oriunde in tara.