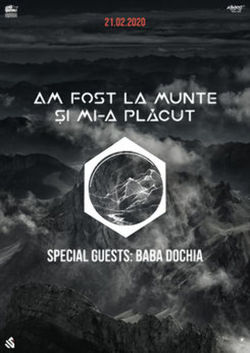 Am Fost La Munte Si Mi-a Placut este o trupa de post-rock fondata in 2015, initial ca un one-man project al lui Vlad Enescu.
La aproximativ 6 luni de la lansarea primului EP, "Susurul Raurilor Care Curg in Jos, sau in Sus, Depinde Cum Te Uiti", in luna iulie a anului 2016 s-a inchegat un grup in toata regula si lui Vlad i s-au alaturat Matei Puscaru la bass, Stere Campean la tobe si Mircea Becherescu la chitara.
In anul 2017, baietii au sustinut o serie de concerte in Bucuresti si in tara, reusind sa bifeze majoritatea marilor festivaluri autohtone, precum Electric Castle, Rockstadt Extreme Fest, Out Of Doors si SHINE Festival, iar in septembrie s-a concretizat planul de a imprima piesele cantate in concerte si astfel a aparut primul album full length, "S-a Rezolvat. Nu Se Poate.", urmat de un turneu national de promovare.
In cei 3 ani de cand sustin concerte, baietii au cantat alaturi de nume sonore ale genului, precum The Ocean, Katatonia, Tides From Nebula si God Is An Astronaut.
Odata cu lansarea EP-ului, "La Deal", AFLMSMP a sustinut cel mai lung turneu de pana acum in Romania si Europa, dar a bifat totodata si primul festival international in Mai 2019, Dunk!Festival, in Belgia.
Facebook: https://www.facebook.com/aflmsmp
YouTube: http://bit.ly/2qV5fIM
Spotify: https://spoti.fi/2YQWETW
Instagram: https://www.instagram.com/aflmsmp/
Special guests: Baba Dochia
Baba Dochia este un melanj de electronica cu rock live, topindu-se in acelasi vas sintetizatoare, riff-uri grele de chitara, beat-uri organice si sintetice, asezonat pe alocuri cu melancolie si agresivitate.
Formandu-se la Sighisoara, Baba Dochia a retinut spleen-ul muzical al micului oras, imbratisand apoi atmosfera vibranta a Clujului, unde se afla acum stabilita.
Lasandu-se influentata de nuante muzicale incepand de la Team Sleep si Death In Vegas, pana la Moderat sau Trentemoller, Baba Dochia isi exteriorizeaza sentimentele printr-un show audio vizual live care induce o calatorie transcendenta, combinatia de sunete si efecte vizuale spiraland non stop cu putere crescanda, conducand publicul intr-un voiaj din ce in ce mai intens.
Aflata intr-o metamorfoza constanta, Baba Dochia abia a inceput.
Facebook: https://www.facebook.com/BabaDochiaMusic
YouTube: https://www.youtube.com/user/BabaDochiaBand
Spotify: https://sptfy.com/8ZYB
Instagram: https://www.instagram.com/baba.dochia.band/
Biletele se gasesc in format electronic pe www.iabilet.ro si in magazinele Flanco, Carturesti, Metrou Unirii 1, Muzica, IQ BOX si pe terminalele Selfpay. Online, puteti plati cu cardul, Paypal,carduri de tichete culturale Sodexo, pe factura la Vodafone sau Orange sau ramburs prin Fan Courier oriunde in tara.