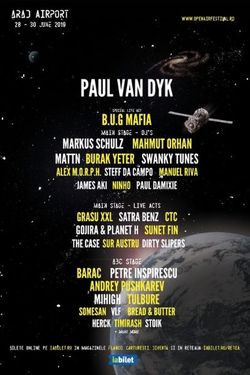 Aleea Aeroport, Arad,
Arad
28 Iunie 2019
-
30 Iunie 2019
//
63,2-200 LEI
Ladies and gentlemen, this is the Captain speaking. You are all welcome aboard to our space shuttle. Before our departure may I have your attention please.
We are all here to explore a new music journey, to outer space.
We are all here to dream, to reach for the stars and make the world a better place.
We are all here to dock in the most unique space laboratory we've ever built. Happiness is created here, at AOA space station
Happiness is a gift, a state of mind and an emotion. Happiness is being kind, asking friends and family about their life, telling someone you love them because life is a dream. Happiness is closing your eyes, taking a deep breath and love - life, people, nature, yourself. Happiness is the magic of a song that you've never heard, but you already know all the lyrics.
We are here to receive and share Happiness and this is one of a kind journey to the world of music.
This is Arad Open Air Festival. And we are opening the Ground Control on Friday 28, June at 19.00.
Five! Four! Three! Two! One! Zero Blast off! Flying high in the sky, We look back and wave goodbye
Biletele se gasesc in format electronic pe www.iabilet.ro si in reteaua fizica iabilet.ro/retea: Magazinele Flanco, Diverta, Carturesti, Hard Rock Cafe, Cafe Deko, Club Vintage, Club Quantic, Expirat Halele Carol (in intervalul orar: 18:00-22:00), Beraria H, Metrou Unirii 1 langa casa de bilete Metrorex, Magazinul Muzica, Magazinele IQ BOX - Telekom, Agentiile Perfect Tour, Magazinele Uman, sediul librariei Libmag (Bulevardul I.C. Bratianu, nr. 6, Sector 3), Casa de balet si pe terminalele Selfpay din toata tara.
Online pe www.iabilet.ro, puteti plati cu Cardul, prin Paypal, pe factura la Vodafone sau Orange cu plata la sfarsitul lunii sau ramburs cu plata cash prin Fan Courier oriunde in tara.