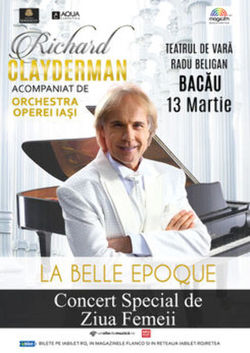 Str. Vasile Alecsandri Nr. 39 Bis,
Bacau
13 Martie 2020
//
100-300 LEI
La Belle Epoque un nou concert dedicat Zilei Femeii, marca Richard Clayderman la Teatrul de Vara Radu Beligan din Bacau. Celebrul pianist, acompaniat de Orchestra Operei Iasi va interpreta piese in premiera printre care se numara o compozitie proprie, un remake a unei capodopere Queen si multe alte surprize!
Pe 13 Martie, anul viitor, Teatrul de Vara Radu Beligan din Bacau va gazdui un spectacol plin de eleganta si romantism.
The Prince of Romance, Richard Clayderman revine in Romania cu ocazia Zilei Femeii pentru a celebra muza pianistului dintotdeauna: femeia si iubirea intr-un concert maiestuos, La Belle Epoque.
Richard Clayderman a fost denumit de Cartea Recordurilor drept "cel mai de succes pianist al tuturor timpurilor" gratie carierei sale impresionante ce cuprinde peste 1300 de piese inregistrate si 150 de milioane de albume vandute in intreaga lume. El a fost distins cu 267 de discuri de aur si 70 de discuri de platina pana in acest moment.
Biletele sunt disponibile in reteaua IaBilet si in format electronic pe www.iabilet.ro, in magazinele Flanco, Diverta, Carturesti, Metrou Unirii 1, Muzica, IQ BOX, Uman, Casa de Balet si pe terminalele Selfpay. Online, puteti plati cu cardul, Paypal,carduri de tichete culturale Sodexo, pe factura la Vodafone sau Orange sau ramburs prin Fan Courier oriunde in tara.