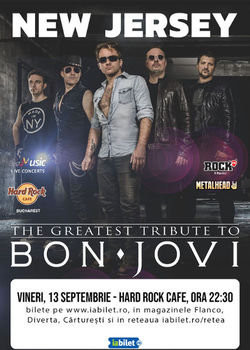 BestMusic Live Concerts te invita la Hard Rock Cafe pentru o seara alaturi de trupa italiana tribut Bon Jovi, "New Jersey"! Vino pe 13 septembrie de la ora 22:30 sa cantam impreuna "Bed Of Roses", "Living On A Prayer", "Keep The Faith", "Blaze Of Glory", "Runaway", "It's My Life", "Always" si multe alte refrene cu care Bon Jovi a cucerit topurile mondiale!
Nu se intampla ca in fiecare zi sa existe un concert BON JOVI, misiunea asumata de NEW JERSEY este sa ofere fanilor o experienta fidela cu cea oferita de celebra trupa. Avand in repertoriu peste 100 de melodi, setlist-ul New Jersy este mereu diferit si tinteste sa satisfaca cerintele pana si celor mai pretentiosi fani.
Activa din 2007, trupa New Jersey este cotata drept cel mai fidel tribut Bon Jovi din lume. Formatia tribut originara din Italia este formata din muzicieni profesionisti, a caror misiune declarata este aceea de a aduce in fata publicului aranjamentele orchestrale identice cu cele originale si savoarea inconfundabila a unui show Bon Jovi.
Din recuzita celor de la New Jersey nu lipseste nici celebra chitara cu grif dublu, care da sonoritatea caracteristica piesei "Wanted Dead or Alive", mereu cu singurul obiectiv de a oferi senzatia unui show original, apeland chiar si la variante acustice a celebrului duo "Jon & Richie".
Membrii activi ai trupei sunt:
Sandro Casali - Jon Bon Jovi
Matteo Gattei - Richie Sambora
Alessio Gattei - Tico Torres
Andrea Augelli- David Bryan
Lucio Mc Lucione - Hugh McDonald
Biletele se gasesc in format electronic pe www.iabilet.ro si in magazinele Flanco, Diverta, Carturesti, Metrou Unirii 1, Muzica, IQ BOX, Uman, Libmag, Casa de Balet si pe terminalele Selfpay. Online, puteti plati cu cardul, Paypal, pe factura la Vodafone sau Orange sau ramburs prin Fan Courier oriunde in tara.
Biletele au urmatoarele preturi:
- VIP: 69 de lei, cu loc la masa in fata scenei (doar 80 de locuri)
- Acces General: 49 de lei, cu loc la masa in sala
- Fara loc: 49 de lei
Online pe www.iabilet.ro, puteti plati cu cardul, prin Paypal, pe factura la Vodafone sau Orange cu plata la sfarsitul lunii sau ramburs cu plata cash prin Fan Courier oriunde in tara. Pentru grupuri mari se acorda discounturi!
Vino la Hard Rock Cafe sa fii aproape de artistii tai preferati si sa te bucuri de muzica lor, intr-o atmosfera unica! Show-urile explozive, colectia de suveniruri care iti reamintesc de legendele muzicii si calitatea sunetului iti garanteaza cea mai placuta experienta live.
Hard Rock Cafe Bucuresti se afla in parcul Herastrau - Soseaua Kiseleff, nr. 32
Locatia dispune si de cateva sute de locuri de parcare.
Pentru acest eveniment nu este permisa anularea biletelor.
Copiii sub 7 ani au acces gratuit.
Un eveniment BestMusic Live Concerts powered by ROCK FM