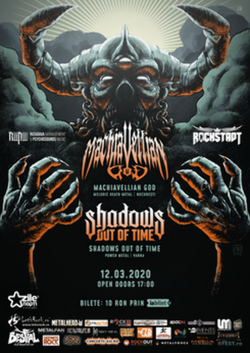 Rockstadt,

Brasov

Lucian Blaga nr. 13, 500008, Brasov, Romania
12 Martie 2020
-
12 Decembrie 2020
//
10 LEI
"Machiavellian God" (Bucuresti) & "Shadows Out of Time" (Varna, BG) au pornit in turneu de promovare a primelor lor materiale de studio, doua LP-uri aparute sub egida labelului bucurestean "Psychosounds Music".
"Machiavellian God" prezinta albumul "Divine Flaw" incarcat cu sonoritati melodic-death metal (data lansare oficiala 23.11.2019).
MACHIAVELLIAN GOD
Vlad "Flip" Plapcianu - Vocals
Mihai "Mike" Dinuta - Guitar
Alex "Bastardu" Gheorghe - Guitar
Valentin Cristocea - Bass Guitar
Emi Ravasel - Drums
"Shadows Out of Time" vine cu albumul self-titled, in care predomina sonoritatile melodic-power metal (data lansare 16.11.2019).
SHADOWS OUT OF TIME - Melodic Power Metal (Varna)
Georgi Dimov - Vocal
Stanimir "Stavry" Stavrev - Vocal
George Pehlivanov - Bass
Petar Velev - Guitar
Gordan Kaloianchev - Guitar
Valentin Deskov - Drums
Accesul la eveniment se poate face numai in baza biletului valid. Minorii cu varsta intre 10 si 14 ani au acces numai insotiti de un parinte sau tutore legal adulti si numai in baza biletelor valide pentru toate persoanele.
Minorii cu varsta intre 14 si 18 ani au acces neinsotiti.
Recomandam ca persoanele care participa la eveniment sa aiba asupra lor un act de identitate. In cazul minorilor, acest lucru este obligatoriu.
Doar membrii clubului pot rezerva locuri la masa in avans. Persoanele care nu sunt membrii ai clubului pot ocupa locuri la masa in momentul sosirii la locatie, in limita disponibilitatilor.
Biletele se gasesc in format electronic pe www.iabilet.ro si in magazinele Flanco, Diverta, Carturesti, Metrou Unirii 1, Muzica, IQ BOX, Uman, Casa de Balet si pe terminalele Selfpay. Online, puteti plati cu cardul, Paypal,carduri de tichete culturale Sodexo, pe factura la Vodafone sau Orange sau ramburs prin Fan Courier oriunde in tara.