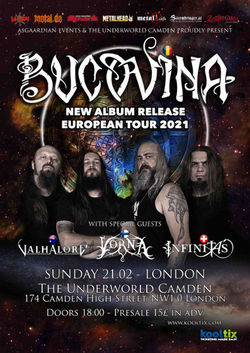 Londra 174 Camden High St, Camden Town, NW1,
Europe
20 Februarie 2022
//
15.17 lire LEI
As every show brought by Asgaardian Events, we present you a quite interesting and colourful lineup.
18:30 - 19:10 Infinitas
19:30 - 20:10 Valhalore
20:30 - 21:15 Vorna
21:40 - 23:00 Bucovina
Bucovina (Romania):
Romania's most prominent metal band, ready to take you on a journey into the magic realms of Bucovina's mountains and woods, filled with old lore and mysterious vibes.
Started in 2000, they bring an interesting mixture of Black & Heavy Metal, well spiced with folk elements & melodic line which they call Folc Hevi Blec.
Bucovina - Spune tu, Vant (2015)
Bucovina - Asteapta-ma Dincolo de Moarte (2017)
Bucovina - Stele Calauza (2019)
Bucovina live
Bucovina - Stahl kennt keinen Rost (first single from the upcoming 20-year anniversary album, to be released December 2020)
Vorna (Finland):
Vorna are a melancholic metal band from Tampere, Finland founded back in 2008. The six piece band started first as melodic black/folk metal but later absorbed various influences from symphonic, atmospheric and melodic metal, now delivering a dark and majestic performance sung in the beautiful Finnish language.
Vorna - Tyhjyys on tyyni (2019)
Vorna - Sateet (2019)
Valhalore (Australia):
Drawing upon elements of Melodic Death, Power, and Symphonic Metal, as well as folk music and cinematic scores, VALHALORE weaves a musical tapestry that is both breathtaking and awe-inspiring. With haunting melodic passages, crushing riffs, and heartfelt lyrical journeys, VALHALORE awakens a sense of majesty within all who hear them.
Valhalore - Legacy (2019)
Infinitas (Switzerland):
A medieval fantasy story meets melodic metal. The band's music revolves around a story. Not only did their Single Skylla make it into the Swiss Charts (19th place) for two weeks in 2018 and first place into Radio Sunshine Hörercharts. They combine several different styles of metal underlaid with folk violin and multi-talented woman vocals gives INFINITAS' music a unique touch.
INFINITAS - Avnas (2019)
INFINITAS - Rahu (2019)
Biletele se gasesc in format electronic pe www.iabilet.ro si in magazinele Flanco, Metrou Unirii 1, Muzica, IQ BOX si pe terminalele Selfpay. Online, puteti plati cu cardul, Paypal,carduri de tichete culturale Sodexo, pe factura la Vodafone sau Orange sau ramburs prin Fan Courier oriunde in tara.
Dacă vreți să vă înscrieți la newsletterul BestMusic și să aflați primii ce trupe mari vin în România, dați un click aici: