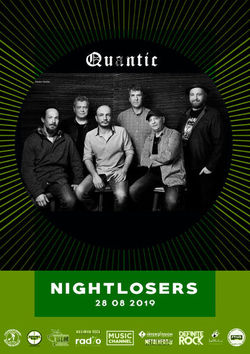 Infiintati in 1994, NIGHTLOSERS canta un fel de 'blues ardelenesc' , un etno-blues construit ca display muzical postmodern, in care acordurile serioase ale blues-ului american sunt piperate cu interventii etno romane, maghiare si tiganesti, montate in conformitate cu o imagine (a formatiei) desprinsa dintr-un film autoironic, in care un grup de taranoi betivi au ajuns intimplator pe o scena.
In cei peste 20 de ani de existenta au concertat la festivaluri din mai toate ariile, din Europa dar si in orase din SUA si Canada. Sunt cunoscuti de publicul larg datorita pieselor "Betivan Ratat" si "Dragostea-i ca si o raie", piese ce reflecta mai degraba spiritul umoristic specific trupei, prezent si el in concertele live, unde pasajele de blues se imbina natural cu muzica traditionala autentica ardeleneasca (tiganeasca, ungureasca si romaneasca).
facebook - https://www.facebook.com/Nightlosers/
Piesa "Betivan Ratat" - https://youtu.be/IeShEoCb9B0
Discografie
Sitting on the top of the world (1994) – caseta – in curand re-editat pe cd
Plum Brandy Blues (1998) – CD
Rhythm & Bulz (2004) – CD
Cinste Lor (2013) – CD
'The blues playing was superb, the singing completely authentic: these guys knew what they were doing.' (Keith Shadwick, The Independent UK)
Biletele se gasesc in format electronic pe www.iabilet.ro si in magazinele Flanco, Diverta, Carturesti, Metrou Unirii 1, Muzica, IQ BOX, Uman, Casa de Balet si pe terminalele Selfpay. Online, puteti plati cu cardul, Paypal, pe factura la Vodafone sau Orange sau ramburs prin Fan Courier oriunde in tara.