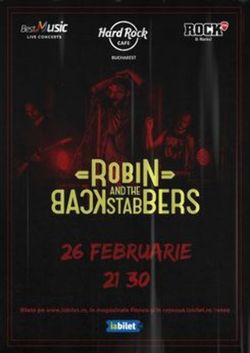 Pe 26 februarie, BestMusic Live Concerts va asteapta la Hard Rock Cafe de la ora 21:30 la un nou concert Robin And The Backstabbers!
Muzica Robin and the Backstabbers poate fi definita in multe moduri: disco-funky, grungy, shoegaze, folk sau, cum este numita de trupa, pop melodramatic. Cert este un singur lucru: iti ramane in minte si in suflet. Vibe-ul grav si retro-futuristic emanat coplesitor in fiecare concert din prezenta scenica nesamuita a trupei, iti potoleste o sete ce nici nu stiai ca o ai.
Trupa a incheiat anul 2015 lansand noul videoclip "Cosmonaut" de pe mult asteptatul volum secund al trilogiei Bacovia Overdrive, "Arhanghel'sk" iar 2016 a fost un an plin de concerte. Aparut in primavara anului trecut, noul album contine 14 piese despre scafandri, mirese si ingeri, case in flacari si cantece duse de vant. Discul a creat valuri de entuziasm si de controverse, trupa strangand peste 1500 de oameni la concertul de lansare de la Halele Carol – cu siguranta unul dintre cele mai importante si mai reusite evenimente de pana atunci ale trupei. In ianuarie 2017, trupa a castigat si premiul de Best Rock (r)Evolution pentru lansarea "Arhanghel'sk" la METALHEAD Alternative Rock Awards. De atunci prezenta RATB este nelipsita de la majoritatea festivalurilor din Romania!
Versurile poetice, in care inspiratia din marii clasici ai literaturii se resimte sonor, sunt intr-un permanent duet cu notele musicale, iar instrumentele numeroase, de la chitara, bass, percutie, clape, baterie, la saxofon, acordeon si muzicuta au scopul de a transporta ascultatorul pe un nor muzical, inr-o calatorie a simturilor pe portative.
Biletele sunt disponibile in reteaua IaBilet si in format electronic pe www.iabilet.ro, in magazinele Flanco, Diverta, Carturesti, Metrou Unirii 1, Muzica, IQ BOX, Uman si pe terminalele Selfpay. Online, puteti plati cu cardul, Paypal,carduri de tichete culturale Sodexo, pe factura la Vodafone sau Orange sau ramburs prin Fan Courier oriunde in tara.
Online pe www.iabilet.ro, puteti plati cu Cardul, prin Paypal, pe factura la Vodafone sau Orange cu plata la sfarsitul lunii sau ramburs cu plata cash prin Fan Courier oriunde in tara. Pentru grupuri mari se acorda discounturi!
Biletele au urmatoarele preturi:
- VIP: 79 de lei, cu loc la masa in fata scenei (doar 80 de locuri)
- Acces General: 49 de lei, cu loc la masa in sala
- Fara loc: 49 de lei
La toate biletele se adauga comisionul de ticketing de 5 lei.
La intrare biletele au urmatoarele preturi:
- VIP: 84 de lei, cu loc la masa in fata scenei
- Acces General: 54 de lei, cu loc la masa in sala
- Fara loc: 54 de lei
Vino la Hard Rock Cafe sa fii aproape de artistii tai preferati si sa te bucuri de muzica lor, intr-o atmosfera unica! Show-urile explozive, colectia de suveniruri care iti reamintesc de legendele muzicii si calitatea sunetului iti garanteaza cea mai placuta experienta live.
Hard Rock Cafe Bucuresti se afla in parcul Herastrau - Soseaua Kiseleff, nr. 32
Locatia dispune si de cateva sute de locuri de parcare.
Copiii sub 7 ani au acces gratuit.
Un eveniment BestMusic Live Concerts powered by ROCK FM