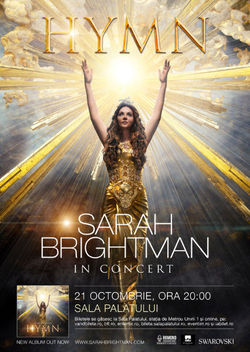 Sarah Brightman, cea mai de succes si cea mai bine vanduta soprana din lume, va aduce turneul ,,HYMN: Sarah Brightman in concert'' la Sala Palatului, pe 21 octombrie, ora 20.00.
Despre turneu, Sarah Brightman spune ca fanii ar trebui sa "astepte neasteptatul!" Turneul mondial ,,HYMN: Sarah Brightman in Concert'' incepe in America de Sud si va cuprinde peste 125 de spectacole pe cinci continente pe parcursul anilor 2018 si 2019.
Pentru a spori magia concertelor ei, Sarah Brightman colaboreaza cu Swarovski pentru acest turneu mondial. Costumele sale elaborate si tiarele orbitoare vor avea in componenta cristale Swarovski. Fanii vor avea, de asemenea, posibilitatea de a lua acasa un memento stralucitor dintr-o varietate de produse personalizate din linia de produse ce poarta semnatura lui Sarah, linie proiectata si impodobita cu cristale de la Swarovski. Mai multe informatii vor fi dezvaluite in lunile urmatoare despre acest parteneriat interesant.
Sarah Brightman a lansat cel de-al cincisprezecelea album al sau, HYMN, pe 9 noiembrie 2018 (Decca Gold / Universal Music Group). HYMN este prima inregistrare de studio a artistei de la lansarea in 2013 a albumului Dreamchaser, ce a dominat topurile internationale, Sarah Brightman fiind pionierul stilului clasic crossover, nominalizata pentru premiile GRAMMY, cu vanzari multiplatinum.
"Sunt atat de incantata sa impartasesc acest album tuturor. HYMN este incitant de eclectic, cuprinzand multe stiluri diferite, si astept cu nerabdare sa interpretez piesele noi in turneul meu mondial. Fiecare proiect pe care l-am facut a venit dintr-un spatiu emotional si am vrut sa fac ceva care sa sune foarte frumos si inaltator. Pentru mine "imnul" sugereaza bucurie - un sentiment de speranta si lumina, ceva familiar si sigur, si sper ca sentimentul rezoneaza prin muzica ", a spus Sarah Brightman.
Brightman s-a intors in studioul de inregistrari in 2016 pentru a incepe sa lucreze la HYMN impreuna cu producatorul si colaboratorul de lunga durataFrank Peterson, cel care a influentat in mod semnificativ productia a opt inregistrari definitorii ale artistei, inclusiv Dive [1993], Fly [1995], Timeless (Time To Say Goodbye) [1997], Eden [1998], La Luna [2000], Harem [2003] si Symphony and Winter Symphony [2008]. HYMN, avand tematica spirituala, este o colectie inspirata de melodii orchestrate, centrate pe cor, despre a carei inregistrare Brightman spune ca a simtit-o ca fiind extrem de linistitoare in acest moment al vietii ei. Albumul a fost inregistrat in ultimii doi ani in Hamburg, Miami, Londra, Vancouver, Los Angeles, New York si Budapesta.
Tonalitatea mistica si inaltatoare a lui HYMN este stabilita cu melodia sa de titlu - o melodie a formatiei britanice prog-rock Barclay James Harvest. Albumul cuprinde, de asemenea, melodii ale unor compozitori moderni precum Eric Whitacre, muzicianul si compozitorul japonez Yoshiki ("Miracle") si DJ-ul german Paul Kalkbrenner ("Sky and Sand"). Albumul se incheie cu o noua interpretare a celebrului duet Sarah Brightman - Andrea Bocelli, "Time to Say Goodbye", cantand versuri scrise chiar de ea, pentru prima data in limba engleza.
Cunoscuta pentru gama ei de trei octave si pentru pionieratul miscarii muzicale clasice-crossover, Sarah Brightman a acumulat vanzari globale de peste 30 de milioane de unitati. Singurul artist care a ajuns simultan in primele pozitii atat in topurile Billboard de muzica de dans cat si in cele ale muzicii clasice, Brightman a castigat peste 180 de premii de aur si platina in peste 40 de tari. Ea este, de asemenea, cunoscuta pentru aparitia din The Phantom of the Opera, a carui coloana sonora s-a vandut in peste 40 de milioane de exemplare in intreaga lume. Duetul sau cu Bocelli, "Time to Say Goodbye", a devenit un succes international care a vandut 12 milioane de exemplare in intreaga lume. Albumele lui Brightman, Eden, La Luna, Harem si Symphony, au ajuns toate in primele pozitii ale topurilor Billboars si au fost insotite de turnee mondiale. In plus, Brightman a concertat si la multiple evenimente prestigioase, precum Concertul din 2007 pentru Diana, Jocurile Olimpice de la Barcelona din 1992 si Jocurile Olimpice de la Beijing din 2008.
Biletele se gasesc in format electronic pe www.iabilet.ro si in reteaua fizica iabilet.ro/retea: Magazinele Flanco, Diverta, Hard Rock Cafe, Cafe Deko, Club Vintage, Club Quantic, Expirat Halele Carol (in intervalul orar: 18:00-22:00), Beraria H, Metrou Unirii 1 langa casa de bilete Metrorex, Magazinul Muzica, Magazinele IQ BOX - Telekom, Agentiile Perfect Tour, Magazinele Uman, sediul librariei Libmag (Bulevardul I.C. Bratianu, nr. 6, Sector 3), Casa de balet si pe terminalele Selfpay din toata tara.
Online pe www.iabilet.ro, puteti plati cu Cardul, prin Paypal, pe factura la Vodafone sau Orange cu plata la sfarsitul lunii sau ramburs cu plata cash prin Fan Courier oriunde in tara.