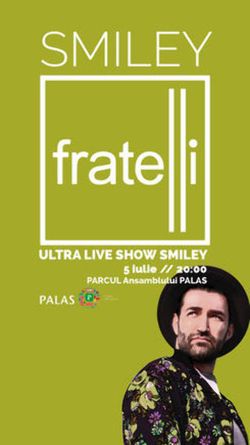 Strada Palas, Iași 700259,
Iasi
05 Iulie 2020
//
83.7-104.89 LEI
Ce mai faci straine ?
Demult n-am mai vorbit !
Pentru ca trei e MAGIE si poveste, iar visele se indeplinesc, a treia seara a conceptului ULTRA LIVE SHOW by FRATELLI din Parcul Ansamblului PALAS, se anunta cu un ZAMBET. :) Un ZAMBET URIAS si o Duminica seara de neuitat: concert SMILEY - 5 IULIE, de la 20.00.
Sunati prietenii, amicile, luati iubitele, strangeti gasca si sa facem galagieeeee!!! O dam sin VALS din CAI VERZI PE PERETI, cantam, dansam si respiram aerul curat al gradinii PALAS. Locurile sunt limitate si intrarea se face doar pe baza biletului achizitionat anterior .
Si, DA! Pregatim totul in maxime conditii de siguranta pentru un show care respecta toate recomandarile enuntate de catre autoritati pentru aceasta perioada, masurile de distantare sociala, igiena si legile in vigoare.
FRATELLI Dj.Team of the night : DJ KidMike & ToniTonini ♥
p.s.: Ramaneti responsabili si ...
Nu uitati sa ii spuneti lui SMILEY ca VA FI BINEEEEEE!
Va FI BINEEEEEE!
Pentru mai multe informatii va rugam sa sunati la numerele afisate pe bilet.
*Locurile sunt limitate si intrarea se face doar pe baza biletului achizitionat anterior