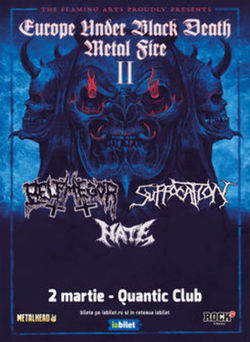 Suffocation, Belphegor si HATE canta la Quantic Club pe 2 martie in cea de-a doua parte a turneului "Europe Under Black Metal Fire"! Primele 100 de bilete au pret special si se gasesc pe iabilet.ro.
Ca sa veniti in gasca, la minimum 4 bilete cumparate aveti discount 10%!
Suffocation este o legenda a scenei Death Metal din Statele Unite, fiind una dintre formatiile care si-au pus amprenta pe acest stil, mai ales cu albumul de debut din 1991, Effigy of the Forgotten. Formatia a activat fara intrerupere timp de 10 ani, din 1988 pana in '98 cand au luat o pauza pentru 5 ani. Din 2003 insa s-au reintors in forta si de atunci au cantat la cele mai importante festivalui din Europa si Statele Unite.
Belphegor, formatia austriaca ce poarta numele unuia dintre cei 7 printi ai iadului activeaza din 1991, avand pentru primi 2 ani numele Betrayer.
Austrecii sunt considerati ca numarandu-se printre pionierii asa numitului Blackened Death Metal, un stil care este punctul tangential dintre Death Metal si Black Metal. Imaginea, muzica si versurile Belphegor au creat controverse, cel mai cunoscut indicent avand loc in Rusia cand Helmuth, solistul formatiei, a fost atacat de un activitst ultracrestin.
Biletele se gasesc in format electronic pe www.iabilet.ro si in magazinele Flanco, Diverta, Carturesti, Metrou Unirii 1, Muzica, IQ BOX, Uman, Libmag, Casa de Balet si pe terminalele Selfpay. Online, puteti plati cu cardul, Paypal, pe factura la Vodafone sau Orange sau ramburs prin Fan Courier oriunde in tara.
- earlybird: primele 100 de bilete: 79 lei
- presale: 89 lei
- la intrare: 100 lei
Se pun in vanzare doar 700 de bilete.
Un eveniment METALHEAD powered by ROCK FM