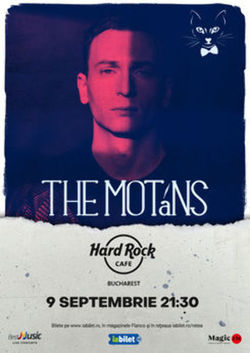 Pe 9 septembrie, de la ora 21:30, te asteptam la Hard Rock Cafe la un concert live cu The Motans!
The Motans este Denis, un tanar din Republica Moldova care a decis sa isi urmeze pasiunea de a compune muzica sub un pseudonim, in urma cu putina vreme. Prima piesa lansata a fost Versus prin Global Records.
Se citeste pasiunea proaspata pentru muzica in fiecare melodie The Motans, vocea suava a solistului adauga o calitate delicata ce aluneca pe portative intr-un ritm controlat care ne ajuta sa traim din plin experienta live The Motans. Versuri dictate de sentimente, ies doar ca emotii puse pe note, genul de muzica pe care o asculti cu ochii inchisi, drept coloana sonora a unei vieti netraite.
"Am scris «Versus» in 2-3 zile, toata piesa pe emotii. Nu m-am gandit ca va fi pe placul unui public larg, am scris-o pentru mine, in primul rand. Am fost insa placut surprins cand am vazut ca oamenii au luat-o la suflet si multi s-au regasit in ea", a declarat The Motans. "Clipul este de fapt o «metafora vizuala», dar care contine un story line. E un produs marca Global Records si a fost regizat de Ionu Trandafir, iar linia melodica reprodusa de catre Alex Cotoi. Intreaga echipa a lucrat cu multa daruire si entuziasm si le multumesc", a mai spus The Motans. Colaborarea cu Delia pentru piesa "Weekend" si "Ramai" dar si cu Irina Rimes pentru "Poem" , au propulsat The Motans printre numele mari ale industriei muzicale din Romania.
Biletele se gasesc in format electronic pe www.iabilet.ro si in magazinele Flanco, Metrou Unirii 1, Muzica, IQ BOX si pe terminalele Selfpay. Online, puteti plati cu cardul, Paypal,carduri de tichete culturale Sodexo, pe factura la Vodafone sau Orange sau ramburs prin Fan Courier oriunde in tara.
Biletele au urmatoarele preturi:
- Acces General: 109 de lei, cu loc la masa in sala
- Fara loc, in fata scenei pe ringul de dans: 59 de lei
La toate biletele se adauga comisionul de ticketing de 5 lei.
La intrare biletele au urmatoarele preturi:
- Acces General: 114 de lei, cu loc la masa in sala
- Fara loc: 64 de lei
Online pe www.iabilet.ro, puteti plati cu cardul, prin Paypal, pe factura la Vodafone sau Orange cu plata la sfarsitul lunii sau ramburs cu plata cash prin FanCurier oriunde in tara. Pentru grupuri mari se acorda discounturi!
Vino la Hard Rock Cafe sa fii aproape de artistii tai preferati si sa te bucuri de muzica lor, intr-o atmosfera unica! Show-urile explozive, colectia de suveniruri care ii reamintesc de legendele muzicii i calitatea sunetului iti garanteaza cea mai placuta experienta live.
Hard Rock Cafe Bucuresti se afla in parcul Herastrau - Soseaua Kiseleff, nr. 32
Locatia dispune si de cateva sute de locuri de parcare.
Copiii sub 7 ani au acces gratuit.
Un eveniment BestMusic Live Concerts powered by Magic FM