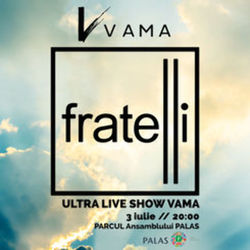 Strada Palas, Iași 700259,
Iasi
03 Iulie 2020
//
83.7-104.89 LEI
Fratelli Lovers,
Noi NU AM FOST PERFEEEEECTI faraaaa vooooi in tot timpul in care nu ne-am vazut, asa ca, pentru a recupera si sarbatori impreuna bucuria reintalnirii, bucuria de a asculta muzica LIVE, de a dansa si zambi, va invitam cu mic cu mare la PRIMUL CONCERT PE IARBA VERDE de vara aceasta:
FRATELLI ULTRA LIVE SHOW – CONCERT VAMA ♥
Salvati data - VINERI 3 Iulie, ora 20.00 si sunati prietenii!
Locurile sunt limitate si intrarea se face doar pe baza biletului achizitionat anterior de la Fratelli Lounge & Club.
Ne-am promis si v-am promis ca atunci cand vom reveni, totul va depasi limitele amintirilor, asadar LOCATIA de aceasta data va fi PARCUL Ansamblului Palas – Inima Orasului #Iasi.
Promitem un show memorabil care respecta toate recomandarile enuntate de catre autoritati pentru aceasta perioada, masurile de distantare, igiena si legile in vigoare.
FRATELLI Dj.Team of the night : DJ KidMike & ToniTonini
Ramaneti responsabili!
Fratelli | Palas | VAMA
Pentru mai multe informatii va rugam sa sunati la numerele afisate pe bilet.
*Locurile sunt limitate si intrarea se face doar pe baza biletului achizitionat anterior