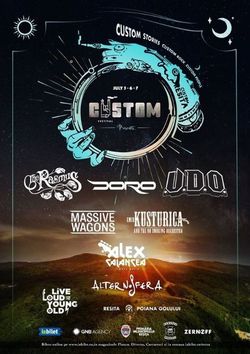 Poiana Golului,
Resita
05 Iulie 2019
-
07 Iulie 2019
//
180 LEI
"Custom Festival" upON Resita City
5-6-7 Iulie 2019 | "A BIG next step for 2020"
Locating the festival...ON! Poiana Golului Resita
It's about to rock the floor! | #ROCK-uim pe un platou panoramic deasupra Resitei
Custom Concepts | Custom Stories | Custom Rock for Custom People
Imbratisam si veneram ENERGIA care pulseaza prin multime si uneste intr-o armonie perfecta oameni care altfel nu s-ar fi cunoscut, FOCUL pe timp de noapte, inaltator si atractiv, ROCK-ul, o impletire de ritmuri si stiluri, acel AUTENTIC care pune in miscare doua elemente esentiale: mintea si sufletul.
Un pas de constientizare! Pentru implicare si educare!
Impartasim curajul de a exprima o stare de moment si un sentiment de prietenie, o ideologie, o emotie, o cale, dorinta de CUSTOM, de schimbare, de a fi altfel.
Educativ | Inspirational | Real | exSPREss
The Main Stage | Cultural ZONE | Custom Sports and Games | Art Bazaars | Expo ARTS | Relax & Chill Zone | WorkShops | Camping Zone | Food Court
The Rasmus | U.D.O. | MASSIVE WAGONS | DORO
Emir Kusturica & The No Smoking Orchestra
Alex Calancea
ALTERNOSFERA
Biletele se gasesc in format electronic pe www.iabilet.ro si in reteaua fizica iabilet.ro/retea: Magazinele Flanco, Diverta, Carturesti, Hard Rock Cafe, Cafe Deko, Club Vintage, Club Quantic, Expirat Halele Carol (in intervalul orar: 18:00-22:00), Beraria H, Metrou Unirii 1 langa casa de bilete Metrorex, Magazinul Muzica, Magazinele IQ BOX - Telekom, Agentiile Perfect Tour, Magazinele Uman, sediul librariei Libmag (Bulevardul I.C. Bratianu, nr. 6, Sector 3), Casa de balet si pe terminalele Selfpay din toata tara.
Online pe www.iabilet.ro, puteti plati cu Cardul, prin Paypal, pe factura la Vodafone sau Orange cu plata la sfarsitul lunii sau ramburs cu plata cash prin Fan Courier oriunde in tara.