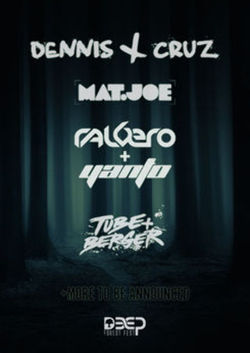 Râmnicu Vâlcea,
Ramnicu-Valcea
10 Iulie 2020
-
12 Iulie 2020
//
52.43-309.23 LEI
Deep Into The Forests of Ramnicu Valcea, there's a place where mysteries unfold, dark magic is made, hypnotic music is played and you are free to be whoever you want to be! First wave of artists is now complete : DENNIS CRUZ , MAT.JOE , RALVERO + MC YANTO , TUBE & BERGER , ADRIAN EFTIMIE , ANDRE RIZO , PASCAL JUNIOR, MANUEL RIVA , SLLASH & DOPPE , OPTICK...many more to come!
If you're one of us, join us and experience the most powerful sensorial experience of 2020.
It's the only secret you'll want to tell everyone.
Tickets on sale now ! MORE LINE UP TO BE ANNOUNCED...accept the mistery !
Website : www.deepforestfest.com
Facebook : https://www.facebook.com/DeepForestFest
Instagram : https://www.instagram.com/deepforestfest
Biletele sunt disponibile in reteaua IaBilet si in format electronic pe www.iabilet.ro, in magazinele Flanco, Metrou Unirii 1, Muzica, IQ BOX, Uman si pe terminalele Selfpay. Online, puteti plati cu cardul, Paypal,carduri de tichete culturale Sodexo, pe factura la Vodafone sau Orange sau ramburs prin Fan Courier oriunde in tara.