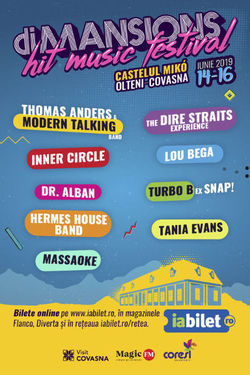 DN12, Olteni 527036,
Sfantu-Gheorghe
14 Iunie 2019
-
16 Iunie 2019
//
89-379 LEI
Toti artistii tai retro preferati, intr-un singur loc, in acelasi weekend! Cel mai nou festival de hituri din centrul tarii, diMANSIONS, va debuta intre 14 -16 iunie 2019 la Castelul Mikó din Olteni, Covasna, la poalele muntilor Bodoc.
diMANSIONS promite o experienta plina de culoare, cu un iz de nostalgie, pe muzica anilor `80, `90 si 2000. Timp de 3 zile si 3 nopti, petrecerea va fi animata de: Thomas Anders & The Modern Talking, The Dire Straits Experience, Inner Circle, Dr. Alban, Hermes House Band, Lou Bega, Tania Evans (vocea originala "Mr. Vain"), Snap! & Turbo B si multi multi altii.
Ai dansat si te-ai distrat pe muzica lor! Profita de sansa de a retrai cele mai frumoase momente ale tineretii, din clipa in care ti-ai cunoscut jumatatea si ai dus-o la discoteca pentru prima data. Nu vor lipsi din poveste, gastronomia traditionala locala, cu ale sale kürtskalács, langosi sau gulas, dar nici retro van-urile cu preparate street-food din cele mai delicioase.
Vino alaturi de noi, in mini vacanta de Rusalii, la cea mai mare petrecere din inima tarii!
"diMANSIONS" este un joc de cuvinte, format din termenii "DIMENSIONS" – "dimensiuni" in limba engleza si "MANSIONS" – "conace" in limba engleza. Termenul rezultat doreste sa comunice multitudinea de experiente si tipuri de activitati din cadrul festivalului, dar permite si o subtila localizare a evenimentului in Covasna, supranumita "THE LAND OF MANSIONS" - "TINUTUL CONACELOR". Vino sa dansezi si sa fredonezi hituri care au scris istoria muzicii, precum: Cheri Cheri Lady, It's my life, Money for Nothing, Mambo No. 5, A La La Long, Mr. Vain sau Life is life si sa te bucuri de o atmosfera unica, intr-una din cele mai frumoase regiuni ale Romaniei.
Biletele se gasesc in format electronic pe www.iabilet.ro si in reteaua fizica iabilet.ro/retea: Magazinele Flanco, Diverta, Carturesti, Hard Rock Cafe, Cafe Deko, Club Vintage, Club Quantic, Expirat Halele Carol (in intervalul orar: 18:00-22:00), Beraria H, Metrou Unirii 1 langa casa de bilete Metrorex, Magazinul Muzica, Magazinele IQ BOX - Telekom, Agentiile Perfect Tour, Magazinele Uman, sediul librariei Libmag (Bulevardul I.C. Bratianu, nr. 6, Sector 3), Casa de balet si pe terminalele Selfpay din toata tara.
Online pe www.iabilet.ro, puteti plati cu Cardul, prin Paypal, pe factura la Vodafone sau Orange cu plata la sfarsitul lunii sau ramburs cu plata cash prin Fan Courier oriunde in tara.