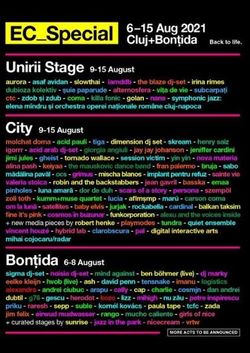 Cluj Napoca
06 August 2021
-
15 August 2021
//
108-378 LEI
Adapted for these times,EC Special spans for more days - 10 in total, and will have an expanded number of venues and acts.
Between the 6th and 15th of August in the center of Cluj and at the legendary Bontida, you will experience a powerful festival feeling. Imagine yourself wandering through 30 venues and attending more than 400 acts of live music, DJ gigs, and new media performances.
Back to life, back to live music, back to dancing, back to feeling great with friends.
* Vaccination is the only way to attend EC_Special, according to current regulations.