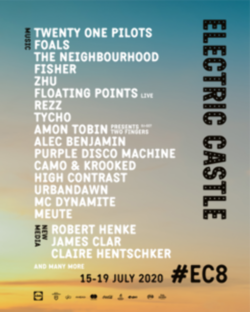 Strada Principală 407105 Bonțida,
Cluj Napoca
15 Iulie 2020
-
19 Iulie 2020
//
538.92-1230.12 LEI
Electric Castle is a one-of-a-kind music festival happening between July 15-19 at Banffy Castle in Transylvania.
An eclectic line-up mixed with new media installations & performances, breathtaking scenery and historical surroundings create an alternate world where you can lose yourself to find your self.
A 5-day event, the festival established itself as a model reference for high quality production and impressive, internationally acclaimed festival architecture.
Biletele se gasesc in format electronic pe www.iabilet.ro si in magazinele Flanco, Diverta, Carturesti, Metrou Unirii 1, Muzica, IQ BOX, Uman, Libmag, Casa de Balet si pe terminalele Selfpay. Online, puteti plati cu cardul, Paypal, pe factura la Vodafone sau Orange sau ramburs prin Fan Courier oriunde in tara.