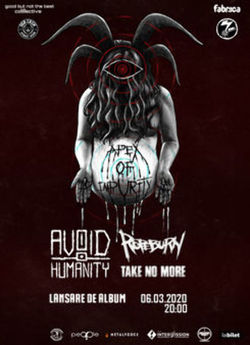 Avoid Humanity lanseaza primul album in club Fabrica pe 6 martie.
Pe 6 martie, grupul vocal instrumental Avoid Humanity, lanseaza albumul Apex of Impurity in club Fabrica, Strada 11 iunie nr. 50. In deschidere vor canta: Ropeburn si Take No More.
In cadrul evenimentului va fi lansat si al 2-lea clip oficial al piesei Awaken The Chimera feat. Christian Blue (For the Wicked).
Event link: https://www.facebook.com/events/2494901040728243/
Albumul va fi disponibil atat in format fizic, prin Overdue Records, si pe toate platformele industriale la urmatoarele linkuri:
Spotify, Apple Music: https://distrokid.com/hyperfollow/avoidhumanity/apex-of-impurity
Bandcamp: https://avoidhumanity.bandcamp.com/releases
Evenimentul este sustinut de 7inc.
Apex of Impurity exploreaza diversele momente in care umanitatea isi arata fata cea mai urata. In cadrul evenimentului va fi o proiectie de meme-uri si competitii try not to laugh ctitorite de moderatorii forumului 4chan.
Biletele sunt disponibile in reteaua IaBilet si in format electronic pe www.iabilet.ro, in magazinele Flanco, Carturesti, Metrou Unirii 1, Muzica si pe terminalele Selfpay. Online, puteti plati cu cardul, Paypal,carduri de tichete culturale Sodexo, pe factura la Vodafone sau Orange sau ramburs prin Fan Courier oriunde in tara.