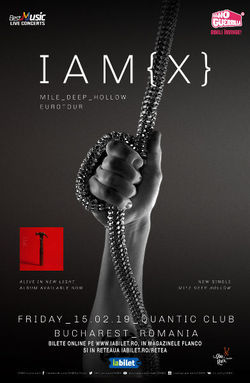 IAMX revine la Bucuresti pe 15 februarie in Club Quantic in cadrul turneului Mile Deep Hollow. Dupa showul sold out de acum cativa ani, este momentul sa il intampinam din nou in capitala de data asta cu un nou album si un show pe masura.
IAMX reprezinta proiectul luiChris Corner, fostul lider al trupei Sneaker Pimps. Proiectul a luat nastere in 2004, in Londra iar fiecare concert poate fi caracterizat ca fiind un eveniment aparte in cadrul caruia muzica se impleteste perfect cu arta vizuala.
IAMX sunt cunoscuti pentru spectacolele lor energice si teatrale live. Outfit-urile neobisnuite, putin creepy si pictura corporala sunt, de asemenea, elemente de baza ale acestor show-uri.
Elementele de arta vizuala pot fi vazute in videoclipurile muzicale IAMX si in toate show-urile lor live. Ambele contin, uneori, continut vizual puternic si controversat, deseori filmat si editat chiar de Corner.
Genul abordat este unul complex. Poate porni de la electronic rock si poate ajunge la dance rock sau dark electro.
IAMX reprezinta de fapt "I AM X". Numele "Sunt X" se refera la "Becoming X", titlul albumului de debut al grupului Sneaker Pimps. Corner a explicat ca prin infiintarea IAMX nu mai simtea ca devine "X", ci mai degraba ca a fost "X". Semnificatia "X", conform fondatorului, se schimba mereu ca o variabila intr-o ecuatie matematica.
Pana in acest moment, IAMX are la activ 8 album de studio, cel mai recent, "Alive In New Light" fiind lansat in acest an pe 2 februarie.
Discografie
2004 - "Kiss + Swallow"
2006 - "The Alternative"
2009 - "Kingdom of Welcome Addiction"
2011 - "Volatile Times"
2013 - "The Unified Field"
2015 - "Metanoia"
2017 - "Unfall"
2018 - "Alive In The New Light"
Biletele se gasesc in format electronic pe www.iabilet.ro si in reteaua fizica iabilet.ro/retea: Magazinele Flanco, Metrou Unirii 1 langa casa de bilete Metrorex, Magazinul Muzica, Magazinele IQ BOX - Telekom, Cafe Deko, Club Vintage, Club Quantic, Expirat Halele Carol (in intervalul orar: 18:00-22:00), Hard Rock Cafe, Beraria H, sediul librariei Libmag (Bulevardul I.C. Bratianu, nr. 6, Sector 3) , Agentiile Perfect Tour, Magazinele Uman si in Statiile de Plata SelfPay din toata tara.
Biletele au urmatoarele preturi:
- earlybird: 75 lei primele 100 de bilete dar nu mai tarziu de 15 noiembrie
- presale 1 : 85 lei pana pe 15 decebrie
- presale 2 : 90 lei pana pe 15 februarie
- la intrare: 100 lei
Se pun in vanzare doar 800 de bilete.
Online pe www.iabilet.ro, puteti plati cu Cardul, prin Paypal, pe factura la Vodafone sau Orange cu plata la sfarsitul lunii sau ramburs cu plata cash prin Fan Courier oriunde in tara.
Un eveniment BestMusic Powered by Radio Guerrilla