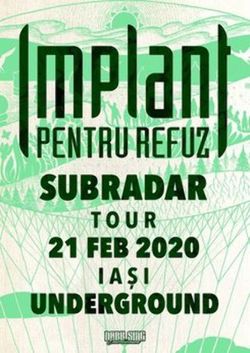 Timisorenii de la Implant Pentru Refuz revin pe scena UNDERGROUND Club pe 21 februarie, in cadrul turneului de promovare al celui mai nou album, SubRadar.
SUBRADAR, albumul IMPLANT PENTRU REFUZ cu numarul 9, este albumul care celebreaza prieteni si prietenii, cuprinzand in totalitate piese realizate in colaborare cu artisti dragi si prieteni apropiati: Adrian Despot (Vita de Vie), Catalin Chelemen (Coma), Nik Fagadar (Luna Amara), Bean (Subcarpati, Suie Paparude), Junkyard (ROA), DJ Hefe (Coma), Dan Byron (Byron), Andrei Robin Proca (Robin And The Backstabbers), Laura Brat (Partizan, Grey Matters), pianistul Teo Milea, Dora Gaitanovici, precum si Daria Elena, tanara castigatoare a concursului nostru "Cautam Vocal".
SubRadar trateaza linia subtire ce separa negrul de alb, cerul de pamant, o zona de zbor liber, de incoltire a ideilor ce nu pot fi controlate si exprimate in termeni clari, in alb sau negru.
In 2020 Implant Pentru Refuz celebreaza 25 de ani de activitate concertistica. Implant pentru Refuz a evoluat de-a lungul celor peste 25 de ani de existenta printr-un sunet mereu proaspat, cu o muzica pe deopotriva sensibila si plina de energie, definind o poveste complexa in cultura muzicii contemporane alternative din tara noastra.
Din 1995 pana in prezent, Implant Pentru Refuz a lansat 9 albume, fiecare album constituindu-se drept noi pietre de fundatie si postamente pentru viitor, reprezentand trepte evolutive ale traseului muzical al trupei:
- Implant pentru refuz - 1996
- Permis postsinucidere - 1997
- Culori - 1999
- Oameni fara fete - 2001
- Monolith - 2007
- Otheroot - 2009
- Cartography - 2015
- Acustic (Live@Unirii5) - 2016
- SubRadar - 2019
Implant Pentru Refuz inseamna:
- Octavian "Vita" Horvath – voce
- Valentin "Freaky" Popescu – chitara si voce
- Razvan "Meshu" Nicov – chitara
- Alexandru Hera – tobe
- Stefan "Pista" Czifrak – chitara bass
http://www.facebook.com/ImplantPentruRefuz
https://www.youtube.com/user/implantpentrurefuztm
https://www.instagram.com/implantpentrurefuz/
Biletele sunt disponibile in reteaua IaBilet si in format electronic pe www.iabilet.ro, in magazinele Flanco, Diverta, Carturesti, Metrou Unirii 1, Muzica, IQ BOX, Uman si pe terminalele Selfpay. Online, puteti plati cu cardul, Paypal,carduri de tichete culturale Sodexo, pe factura la Vodafone sau Orange sau ramburs prin Fan Courier oriunde in tara.