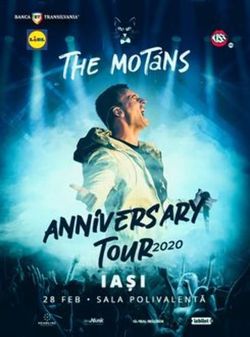 Strada Palat, nr. 2,
Iasi
28 Februarie 2020
//
35.82-156.97 LEI
The Motans pregateste un turneu national la inceputul anului 2020 , pentru a sarbatori 3 ani de activitate muzicala printr-un show magic.
La minimum 4 bilete cumparate, discount 15%
La minimum 8 bilete cumparate ai discount 25%
Adauga 2 bilete Fan Zone in cos si platesti doar 1. Promotia este valabila 13.02 ora 10.00 - 14.02 ora 23.59
Din ianuarie si pana in aprilie, The Motans va ajunge in Pitesti, Ploiesti, Galati, Bacau, Iasi, Sibiu, Brasov, Craiova, Timisoara si Constanta. Turneul marcheaza 3 ani de muzica scrisa din suflet, de piese care au ajuns in fruntea clasamentelor muzicale atat la radio, cat si la TV.
Denis Roabes (The Motans) este un artist complet: scrie versuri, compune muzica si se implica in identitatea vizuala a clipurilor sale."Au trecut deja primii trei ani, care m-au invatat multe - cum ar fi sa ma iubesc pe mine, datorita oamenilor din jurul meu. Abia astept sa cant piesele de suflet de pe primul album, dar si de pe albumul ce urmeaza sa fie lansat in primavara. Senzatia pe care mi-o daruiesc oamenii din public este o combinatie de euforie si extaz. Cand ai in fata ta atat de multe persoane, trebuie sa te deschizi 100%. Eu cred ca fanii simt asta si vin si ei cu sufletele deschise la concertele The Motans. Atunci ei sunt ai tai, iar tu devii al lor. The Motans este o stare de spirit pe care o purtam in suflet si pe care o impartasim cu fanii nostri.", a spus Denis Roabes.
De la prima piesa lansata, "Versus", si pana astazi la "Bine Indispus", The Motans a avut numeroase show-uri extrem de apreciate de fani. "The Motans Grand Concert" a avut loc pe 31 mai 2019 la Arenele Romane. Artistul a prezentat un show unic, suprarealist, care a creat o punte intre arta si societate, intre fantezie si realitate, un adevarat spectacol de lumini si proiectii, sold-out la 5000 de spectatori.
The Motans a castigat 3 premii in cadrul The Artist Awards: Youtube Awards, Best song (Poem feat. Irina Rimes) si Best Collaboration (Poem feat. Irina Rimes). Piesa "POEM" a strans peste 35 de milioane de vizualizari pe YouTube si a ajuns pe locul 1 in cadrul Summer Chart Media Forest.The Motans a reusit, de-a lungul timpului, sa creeze o conexiune aparte cu publicul, nu doar prin magia muzicii si a versurilor, dar prin imaginile pe care le impleteste perfect, daruind experiente unice.
Pentru acest spectacol bilete se gasesc si in orasul tau! Tu alegi de unde cumperi. Ia biletul si vino la spectacol!
Reteaua iabilet iti pune la dispozitie mai multe puncte de vanzare. Vezi aici lista completa pentru orasul tau: www.iabilet.ro/puncte-de-vanzare
Biletele pot fi prezentate atat in format fizic (print) cat si in format digital (pe telefon).
Pentru alte intrebari sau probleme referitoare la biletele achizitionate, contacteaza-ne pe pagina de facebook Headline Management sau pe adresa de mail contact@iabilet.ro.
Pentru acest eveniment nu este permisa renuntarea la biletele achizitionate. In caz de anulare a evenimentului, veti fi notificat pe email, iar contravaloarea biletelor este returnata in maxim 7 zile lucratoare.
Iti multumim ca ai ales sa te distrezi cu noi!