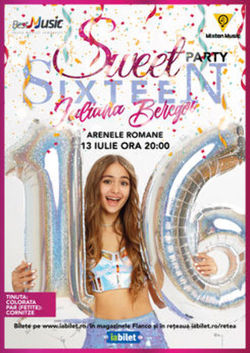 Iuliana Beregoi te invita sa te distrezi impreuna cu ea la cel mai mare party din toate timpurile: Sweet Sixteen. Pe 13 iulie, de ziua Iulianei, la Arenele Romane, vei petrece o zi de neuitat, vei canta si vei dansa alaturi de Iuliana si invitatii ei speciali, vei avea parte de multe surprize si vei simti ca faci parte din Generatia Z, cea mai fresh si cea mai cool generatie. Iuliana implineste 16 ani doar o data.
Nu rata acest eveniment unic! Imbraca-te colorat, fa-ti cornite din par (daca esti fata) si vino la cel mai tare party marca Mixton Music, Sweet Sixteen! Primele 200 de bilete sunt la oferta de pret pe iabilet.ro
Pentru biletele "cu loc" accesul se face doar prin parc prin lateralele arenei.
Pentru biletele de pe Teren (cat B si FanZone) accesul se face pe la portile de jos din parc ale Arenelor Romane.
Biletele ofera participantilor acces doar in categoriile in care si-au cumparat bilet.
La pretul tuturor biletelor comandate in earlybird si presale se adauga comisionul de emitere bilet de 3 lei.
Copiii nu au acces gratuit la acest eveniment.
Recomandam fanilor care vin cu copii sub 5 ani sa le proteje acestora urechile cu casti sau dopuri speciale. La concert volumul va fi puternic si acesta poate afecta auzul copiilor.
Biletele au urmatoarele preturi:
VIP (include Bilet Fanzone, Soundcheck Dance Party, Q&A session cu Iuliana, Meet and Greet si VIP Lounge cu Candy Bar & Drinks, Photo Booth, Iuliana Sweet 16 Poster, Acces exclusiv la merchandise inainte de show) - 1.200 lei - doar 50 de locuri
Fan Zone in fata scenei - 500 locuri - 150 lei
Categoria A cu loc in sectoarele K si E - 120 lei
Categoria B fara loc in spatele Fanzone - (in arena) - 90 lei
Categoria C cu loc - (restul de locuri din arena mai putin K si E) -
Supliment Meet and Greet (valabil doar cu bilet cumparat in orice categorie) - 200 de lei - doar 300 de bucati
Organizatorii vor organiza suficiente puncte de vanzare a bauturilor pentru a evita cozile, Arenele Romane fiind o locatie propice pentru evenimentele de gen. Recomandam totusi sa veniti la concert din timp conform programului organizatorilor. Este normal ca la orele de varf, fix inainte de intrarea pe scena a trupei cand se atinge capacitatea maxima a locatiei, barurile sa se aglomereze. Organizatorii vor oferi un program detaliat cu cateva saptamani inainte de concert.
Accesul cu umbrele este interzis. In caz de vreme rea, va recomandam sa luati pelereine.
Accesul cu mancare si bauturi din exterior este interzis. Veti gasi la concert diverse produse pe care le puteti cumpara precum si bauturi de diverse feluri.
Biletele se gasesc in format electronic pe www.iabilet.ro si in magazinele Flanco, Metrou Unirii 1, Muzica, IQ BOX si pe terminalele Selfpay. Online, puteti plati cu cardul, Paypal,carduri de tichete culturale Sodexo, pe factura la Vodafone sau Orange sau ramburs prin Fan Courier oriunde in tara.
Un eveniment BestMusic Live Concerts si Mixton Music