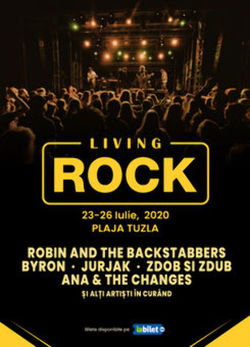 Plaja Tuzla, Tuzla (Constanța),
Constanta
23 Iulie 2020
-
26 Iulie 2020
//
60-150 LEI
Sub egida: "e momentul sa ne luam vara inapoi", intre 15 si 17 august 2019, am strans randurile pe malul Marii Negre, la Tuzla, si am petrecut ca pe vremuri.
Am pus muzica pe primul loc, berea la rece si am petrecut vreme de trei zile, pe cele mai vibrante acorduri rock.
Living Rock Festival - revine si anunta cu bucurie editia 2020, de data aceasta cu si mai multe surprize si voie buna, eveniment in cadrul caruia vom fredona alaturi de cele mai in voga trupe.
Si cum surprizele nu vin niciodata singure, intre 23 si 26 iulie 2020, va asteptam la Living Rock Festival alaturi de Zdob si Zdub, byron, Jurjak, Robin and the Backstaberrs, Ana & The Changes, si alti artisti care vor urca pe scena #livingrock.
Tarif bilete - faza presale:
Abonament: 150 lei
Bilet acces zi: 75 lei
Biletele sunt disponibile in reteaua IaBilet si in format electronic pe www.iabilet.ro, in magazinele Flanco, Diverta, Carturesti, Metrou Unirii 1, Muzica, IQ BOX, Uman si pe terminalele Selfpay. Online, puteti plati cu cardul, Paypal,carduri de tichete culturale Sodexo, pe factura la Vodafone sau Orange sau ramburs prin Fan Courier oriunde in tara.
Biletele includ:
- acces pentru una sau toate cele trei zile de festival;
- camping si parcare;
- multa voie buna.
Daca iti place sa traiesti #rock, ne vedem la #livingrock