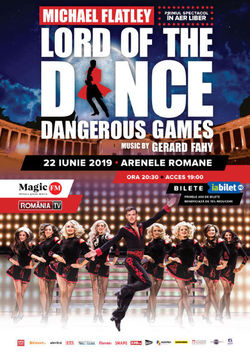 DANGEROUS GAMES – una dintre cele mai de succes productii artistice a companiei de dans LORD OF THE DANCE, revine, in 2019, la Bucuresti, pentru o noua reprezentatie fascinanta, plina de energie, ce va avea loc in premiera pe o scena in aer liber.
Cel mai popular show, "Lord of the Dance - Dangerous Games",produs de celebrul coregraf si regizor Michael Flatley pe muzica compozitorului Gerard Fahyho, va fi prezentat pe 22 iunie 2019, la Arenele Romane, incepand cu ora 20:30.
Cei 40 de dansatori profesionisti propun publicului o noua experienta memorabila, acestia garantand cu o coregrafie inovatoare, extrem de precisa, completata cu elemente de dans noi, surprinzatoare, ce vor aduce un plus de valoare show-urilor din 2019. De asemenea, productia ce va fi prezentata la Bucuresti, va captiva audienta cu un set impresionant de design si complexitate vizuala, bine adaptata noilor tehnologii. Efectele speciale, proiectiile 3D, robotii dansatori, acrobatii de talie mondiala si muzica live, reprezinta elementele cheie consitruite sub umbrela talentului si a pasiunii pentru arta de catre geniul dansului irlandez Michael Flatley, pentru montarea show-ului Lord of the Dance – Dangerous Games.
"Nimic nu este imposibil ... Urmati-va visele" , acesta este unul dintre motto-urile dupa care se ghideaza fenomenalul Michael Flatley. Cu milioane de fani in fiecare colt al lumii, Michael Flatley este privit ca un geniu al artei sale, titulatura dobandita in urma performantelor sale coregrafice extraordinare, precum si pentru clasarea dansului popular irlandez pe cea mai inalta pozitie, la nivel international.
Premiera spectacolului "Lord of the Dance - Dangerous Games" a avut loc la magnificul Coliseum din Londra in urma cu douazeci de ani, insa in anul 2014, Michael Flatley a revenit asupra acestuia, devenind mult mai palpitant si atractiv pentru public, fata de varianta originala. In septembrie 2014, noua versiune a show-ului "Lord of the Dance - Dangerous Games", s-a jucat pe scena salii Palladium din Londra, cu ocazia aniversarii a 20 de ani de cand Michael Flatley s-a remarcat in plan international. Din acel moment, succesul spectacolului a luat amploare si a continuat sa fie jucat cu casa inchisa pe marile scene ale lumii, bucurandu-se de ovatiile a milioane de spectatori dinSUA, Canada, Irlanda, Germania, Africa de Sud, Australia, Noua Zeelanda, Mexic si, bineinteles, Romania.
Dupa nenumarate reprezentatii, care au cucerit inimile publicului din Romania, dansatorii irlandezi se reinventeaza inca o data si cu acelasi entuziasm revin pentru o noua intalnire, pe 22 iunie 2019, la Arenele Romane din Bucuresti, pe scena amenajata in aer liber, un spatiu adecvat spectacolelor la inceput de vara. Dar, pana la momentul show-ului"Lord of the Dance - Dangerous Games" , organizatorii le recomanda tuturor celor interesati sa isi procure biletele aflate in perioada de presale.
In perioada 7 – 29 noiembrie, biletele vor putea fi achizitonate la preturi reduse cu 15%, in limita a 400 de bilete, dupa cum urmeaza: Cat.1 – 295 lei, Cat.2 – 255 lei, Cat.3 – 210 lei si Cat.4 – 170 lei. Dupa incheierea perioadei de presale, biletele vor fi suplimentate cu alte doua categorii de loc, iar preturile vor fi urmatoarele: Cat. 1 - 350 lei, Cat.2 – 300 lei, Cat.3 – 250 lei, Cat.4 – 200 lei, Cat.5 – 150 lei si Cat.6 – 100 lei.
Biletele se gasesc in format electronic pe www.iabilet.ro si in reteaua fizica iabilet.ro/retea: Magazinele Flanco, Diverta, Hard Rock Cafe, Cafe Deko, Club Vintage, Club Quantic, Expirat Halele Carol (in intervalul orar: 18:00-22:00), Beraria H, Metrou Unirii 1 langa casa de bilete Metrorex, Magazinul Muzica, Magazinele IQ BOX - Telekom, Agentiile Perfect Tour, Magazinele Uman, sediul librariei Libmag (Bulevardul I.C. Bratianu, nr. 6, Sector 3), Casa de balet si pe terminalele Selfpay din toata tara.
Online pe www.iabilet.ro, puteti plati cu Cardul, prin Paypal, pe factura la Vodafone sau Orange cu plata la sfarsitul lunii sau ramburs cu plata cash prin Fan Courier oriunde in tara.