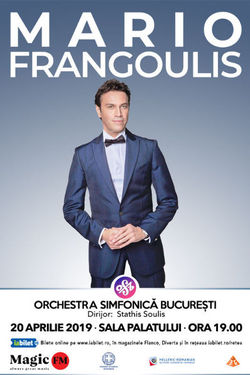 Sala Palatului,
Bucuresti
20 Aprilie 2019
//
100-400 LEI
Tenorul Mario Frangoulis canta in premiera in Romania la Sala Palatului, pe 20 aprilie, intr-un concert extraordinar alaturi de Orchestra Simfonica Bucuresti.
Din concert nu vor lipsi piese celebre precum Hijo de la Luna, Nights in White Satin (Notte di Luce) sau Vincero Perdero.
Un eveniment organizat de 3G Enterprise Creative.
Un tenor fabulos, cu un registru vocal impresionant si o tehnica excelenta, un artist clasic crossover care se bucura de un fenomenal succes pe intreg mapamondul, cu 19 albume in palmares si peste 7 milioane de copii vandute in intreaga lume, Mario Frangoulis calca pe urmele granzilor: "Andrea Boceli, move over!", titreaza Daily News, in timp CNN recunoaste ca "lumea lui Frangoulis este distilata pana la sunet pur, doar voce". Combina clasicul cu contemporanul, amestecand cu usurinta opera cu pop, rock, folk, soul sau world music, a impartit scena cu monstri sacri precum Sarah Brightman, Placido Domingo, Montserrat Caballe, José Carreras, Liu Huan, Lara Fabian, Klaus Meine sau Angela Gheorghiu si a cantat cu cele mai bune orchestre ale lumii, de la Boston Pops la Chicago Symphony, Filarmonica din Tokyo, Opera Novaya din Moscova, Royal Simphony Orchestra sau Orchestra Filarmonica din Londra.
Nascut in Africa si crescut in Grecia, Mario Frangoulis a studiat in Marea Britanie, la Londra. Era inca elev la London's Guildhall School of Music cand Sir Andrew Lloyd Webber l-a distribuit in rolul lui Raoul din "Fantoma de la Opera", performanta ce i-a adus aplauzele publicului si laudele criticilor. Si-a descoperit inclinatia catre opera odata cu spectacolul "The King and I" de Rodger si Hammerstein, alaturi de legendara soprana americana Barbara Cook si Orchestra BBC sub bagheta lui Wally Harper. A urmat castigarea bursei Maria Callas si a concursului Pavarotti, care i-au deschis drumul spre Italia pentru a studia cu tenorul Carlo Bergonzi. La Roma a avut ocazia sa-l cunoasca si sa-l impresioneze profund pe Nicole Rescigno, dirijorul favorit al Mariei Callas, caruia i-a devenit student. Si nu doar lui, ci si aclamatului Alfredo Kraus, considerat de specialisti drept unul dintre cei mai buni tenori de la sfarsitul secolului XX, un veritabil reprezentant al generatiei de aur alaturi de Enrico Caruso, Franco Corelli, Mario del Monaco sau Luciano Pavarotti. Mario Frangoulis a fost singurul elev privat pe care Kraus l-a acceptat vreodata.
A continuat sa-si cultive talentul la faimoasa scoala de muzica Juilliard din New York, studiind cu soprana Dodi Protero sub indrumarea lui Marilyn Horne. Cariera sa a decolat spectaculos insa abia dupa ce a ajuns in atentia lui Peter Gelb, seful casei de discuri Sony Classical, actualmente director artistic al Metropolitan Opera din New York. De-atunci si pana acum, Mario a lansat nu mai putin de 19 albume si a vandut impresionanta cifra de 7 milioane de copii in intreaga lume. A inceput in 2002 cu albumul "Sometimes I Dream", urmat la patru ani distanta de "Follow Your Heart". Ambele discuri l-au propulsat pe primele pozitii in clasamentul Billboard al celor mai buni artisti de clasic crossover din intreaga lume (# 2 si # 3, in imediata vecinatate a unor nume precum Andrea Bocelli si Josh Groban timp de peste 50 de saptamani). Este in mod constant plasat in primele 10 locuri in topurile internationale, iar in 2011 a fost votat Best Male Classical Crossover Artist, o recunoastere globala pe deplin meritata.
De-a lungul carierei sale, Mario si-a folosit atat talentul ca solist, cat si ca actor: de la Tony din "West Side Story" la La Scala din Milano (ales dintre mii de concurenti) la Alfred Drake in muzicalul "Kiss Me Kate" al lui Cole Porters. Varietatea registrelor stilistice pe care le acopera nu se opreste aici: a intepretat piesa "So In Love" in filmul "De Lovely" alaturi de pop icon-ul Lara Fabian, a readus la viata tragedii antice grecesti cu roluri epice precum Dionysus, Achilles (in timpul Jocurilor Olimpice de la Atena din 2004) si a ridicat in picioare publicul in amfiteatre legendare precum teatrul antic Epidaurus din Grecia (monument UNESCO) sau teatrul Pergamon din Turcia cu interpretarea lui Prometeu.
In 2012, la invitatia lui Robin Gibb (The Be Gees) Mario inregisteaza "Daybreak", ultima piesa pe care Robin a scris-o vreodata, parte a compozitiei "Titanic Requiem". Un an mai tarziu, Mario a interpretat aceasta piesa in memoria lui Gibb, intr-un concert emotionant alaturi de istorica orchestra Boston Pops difuzat de televiziunea publica americana. Transmisiunea a inregistrat o audienta uriasa, de peste 50 de milioane de gospodarii in America si Canada.
In 2016, Mario Frangoulis strabate Asia in turneu cu Sarah Brightman – 24 de concerte in Japonia, Coreea de Sud, China si Taiwan. 2017 a marcat lansarea albumului sau "Ark", cu duete grecesti, si turnee in 25 de orase din Grecia si Cipru, culminand cu un concert fabulos la Acropolis alaturi de Angela Gheorghiu. Inceputul lui 2018 il gaseste in studio, pregatind un nou album in limba greaca, cu piese semnate chiar de el.
Pentru spectacolul de pe 20 aprilie, biletele sunt disponibile, in functie de distanta fata de scena, la preturile de 100 lei (categoria IV), 200 lei (categoria III), 275 lei (categoria II), 350 lei (categoria I) sau 400 lei (VIP) pe www.iabilet.ro.
Promotie!
15% discount pentru 1 bilet achizitionat
20% discount pentru 2 bilete achizitionate
Biletele se gasesc in format electronic pe www.iabilet.ro si in reteaua fizica iabilet.ro/retea: Magazinele Flanco, Diverta, Hard Rock Cafe, Cafe Deko, Club Vintage, Club Quantic, Expirat Halele Carol (in intervalul orar: 18:00-22:00), Beraria H, Metrou Unirii 1 langa casa de bilete Metrorex, Magazinul Muzica, Magazinele IQ BOX - Telekom, Agentiile Perfect Tour, Magazinele Uman, libraria Libmag, in punctele de vanzare Casa de Balet si pe terminalele Selfpay din toata tara.
Online pe www.iabilet.ro, puteti plati cu Cardul, prin Paypal, pe factura la Vodafone sau Orange cu plata la sfarsitul lunii sau ramburs cu plata cash prin Fan Courier oriunde in tara.