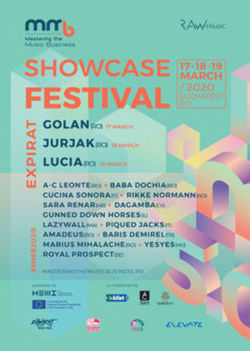 Mastering The Music Business (MMB) Showcase Festival, festivalul ce prezinta artisti in ascensiune din Romania si din lume, va avea loc intre 17-19 martie la Club Expirat. Golan, Lucia si Jurjak vor fi headlinerii festivalului, iar line-up-ul cuprinde artisti din Romania, Italia, Israel, Maroc, Croatia, Turcia, Suedia, Norvegia, Letonia si Ungaria.
Timp de trei zile, in perioada 17-19 martie, Club Expirat din Bucuresti va gazdui o noua editie a MMB Showcase Festival, eveniment ce va aduce pe scena clubului formatii in ascensiune din toata lumea care vor sustine concerte de prezentare, pentru a-si face noi fani in Romania.
Fiecare seara de MMB Showcase Festival la Club Expirat va beneficia de prezenta unui headliner binecunoscut din Romania! Cele trei nume mari care vor incheia fiecare seara de festival sunt GOLAN (17 martie), Jurjak (18 martie) si Lucia (19 martie).
Pe langa acestia, peste 20 formatii la inceput de drum vor lua parte la cea de-a 5 editie a festivalului, prezentandu-si muzica publicului roman.
Biletele pentru festival sunt in numar limitat si s-au pus deja in vanzare pe www.iabilet.ro si in reteaua IaBilet si costa 30 de lei (bilet pentru o seara) si 60 de lei (abonament pentru toate cele trei seri).
Despre trupele selectate
A-C Leonte este una din cele mai creative artiste reprezentative pentru scena de jazz contemporan din Bucuresti, dar si pentru miscarea de muzica electronica underground. A castigat experienta studiind jazzul, de unde a imprumutat efervescenta improvizatiei, abordarea ludica si, in general, libertatea de exprimare. Combinand in muzica ei alte influente moderne precum hip-hop, dnb, dub sau trip-hop, si-a creat stilul distinct si profund pe care il exploreaza permanent in compozitii, in orchestratii si ca vocalista si instrumentista (vioara).
Amadeus, o formatie cu instrumente de coarde si pian, e unul din cele mai apreciate proiecte muzicale de acest gen din intreaga lume. Combinatia constanta de elemente clasice si moderne a adus grupul in randul celor mai apreciati artisti din muzica clasica crossover. Au cantat pe patru continente pana acum, muzica lor fiind apreciata atat in Europa, unde sunt chemate frecvent in Franta, Spania, Italia si UK, dar si in America de Sud si Asia.
Dagamba creeaza o fuziune intre cultura muzicala din Orient si din Occident, modeland un sound penetrant si unic. In concerte imbina world music cu rock-ul, popul si muzica clasica - indraznind sa paseasca pe teritorii muzicale neexplorate si creand un show dinamic si plin de culoare. Dupa infiintarea trupei in Letonia in 2011 de performantul muzician si academician Valters Puce (violoncel), acestuia i s-a alaturat rapid prietenul sau din copilarie Anton Trocjuks (violoncel).
Marius Mihalache este cel mai cunoscut interpret roman de tambal. Nascut in Bucuresti intr-o familie de muzicieni, a facut cunostinta cu tambalul la 4 ani, incurajat de tatal sau. In 2017 a lansat cel mai recent proiect al sau de muzica balcanica, "Saftita", in care isi povesteste viata si vorbeste de radacinile sale tiganesti, pe care si-a construit fundatia culturala si muzicala. Ascultati-l live si veti intelege de ce este supranumit "Imblanzitorul de tambale".
Infiintata in 2006, Piqued Jacks este trupa unor frati care au crescut impreuna in pitorescul Buggiano, langa Florenta, in Italia. "Piqued" inseamna "interesat", dar inseamna si direct, spontan, visceral. Cel mai recent album al trupei a fost produs de Dan Weller (Enter Shikari, Young Guns) intr-un conac din secolul al XVIII-lea, transformat in studio de inregistrari special pentru ei.
Rikke Normann este o interpreta si o compozitoare moderna, cu o voce cu inflexiuni soul si un nucleu pop. In 2019 si-a lansat al treilea album denumit "35". Inregistrat live, intr-o singura sesiune, albumul a fost bine primit atat acasa, cat si in strainatate. Cu emotiile la vedere, Rikke Normann nu are nevoie decat de un pian pentru a atrage atentia si a-si vraji publicul cu felul ei special de a vorbi despre sentimente. Se spune ca ar fi cel mai bine pastrat secret muzical al Norvegiei.
yesyes cred in puterea de a spune da lucrurilor bune din viata: gandurile lor pozitive i-au dus pana in finala competitiei DAL cu piesa "I Let You Run Away", care a fost publicata si pe canalul de YouTube Trap Nation in 2018, ajungand la 4 milioane de vizualizari intr-un an. In 2019, cei doi au fost in turneu cu una din cele mai mari trupe din Ungaria, BRAINS, si au avut ocazia sa cante pe cea mai mare scena in aer liber, in Budapest Park.
Originari din Cluj-Napoca, Baba Dochia se caracterizeaza printr-o combinatie de rock si muzica electronica. Stilul lor imbina beat-uri sintetice si organice cu riff-uri puternice de chitara, pe fondul soundului profund si agresiv al tobelor live. Principalele lor influente sunt Death in Vegas, Trentemøller, Apparat, Amon Tobin, Boards of Canada, si mai ales Team Sleep.
Barstk M este un proiect al vocalistului, compozitorului si trompetistului turc Bars Demirel, influentat de sonoritatile Turciei, si mai ales de rock, jazz, hip hop si muzica ambientala. Vocea lui melodioasa si folosirea instrumentelor marcheaza stilul sau autentic, dar unic, facandu-l sa se remarce in randul muzicienilor de jazz contemporan si fusion.
Cucina Sonora - o imbinare fericita intre analogic si digital, intre clasic si electronic, intre trecut si viitor, pentru a simti mai bine prezentul. Proiectul lui Pietro Spinelli a inceput in 2014, pornind de la ideea acestuia de a trece de la pian clasic spre noi orizonturi. Pana in prezent a sustinut peste 60 de concerte in Italia si in strainatate, pe aceeasi scena cu nume celebre precum Godblesscomputers, Fricat, Aucan si Go Dugong
Cu un show surprinzator, o abordare kamikaze si o senzualitate cinematica, Gunned Down Horses - venind in galop din Israel - sunt o forta in ascensiune in lumea rock-ului. Influentati de lumea cabaretului si de filmele western, sound-ul lor unic este o combinatie de Nick Cave si Faith No More, sau de Tarantino si Fellini.
Lazywall este una din putinele trupe de Metal Oriental, alaturi de Myrath si Orphaned Land, combinand riff-uri puternice de chitara cu instrumente traditionale marocane precum oudul, darbouka si guembri. S-au format in 2003 in Reading, Anglia, si si-au lansat primul EP "Primal Tapes" in 2006, inregistrat in Chicago cu Steve Albini, producatorul lui Nirvana.
Sara Renar este o fosta arhitecta cu diploma de master, care si-a parasit munca de birou pentru a porni intr-o cariera muzicala full time. Stilul sau muzical poate fi descris ca experimental/indie/pop, in care liniile melodice subtile se impletesc cu elemente electronice si teatrale.
Royal Prospect este o trupa tanara de rock din Lomma, Suedia, infiintata la inceputul anului 2014 de patru prieteni: Oscar, Hannes, Gustav si Hannes. Dupa mai multe concerte de festival in Suedia, trupa a fost invitata pe scena principala la cel mai mare festival de muzica din Croatia, "Inmusic", in vara urmatorului an. In 2018 au tinut propriul turneu asiatic si au cantat in SUA la Summerfest in 2019.
MMB Showcase Festival este festivalul asociat conferintei Mastering the Music Business care, vreme de trei zile, in perioada 17-19 martie, va aduce la Bucuresti profesionisti de top ai industriei muzicale romanesti si internationale. MMB Showcase Festival este un festival asociat retelei INES (Innovation Network of European Showcases). Mastering the Music Business este un eveniment organizat de Asociatia Romanian Artists Worldwide, sustinut de HEMI (Hub for the Exchange of Music Innovation) si co-finantat prin programul Europa Creativa al Uniunii Europene.
Biletele se gasesc in format electronic pe www.iabilet.ro si in magazinele Flanco, Metrou Unirii 1, Muzica, IQ BOX, Uman, Casa de Balet si pe terminalele Selfpay. Online, puteti plati cu cardul, Paypal, carduri de tichete culturale Sodexo, pe factura la Vodafone sau Orange sau ramburs prin Fan Courier oriunde in tara.