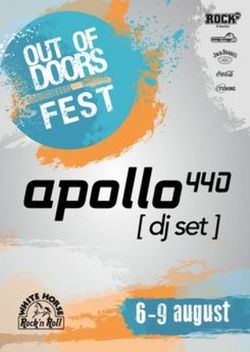 Costinesti, Jud Constanta,
Costinesti
06 August 2020
-
09 August 2020
//
143.03-169.52 LEI
Apollo 440 DJ SET la OUT OF DOORS FEST 2020, White Horse Costinesti, 6-9 August In perioada 6-9 August, Doors Events organizeaza a 8-a editie a festivalului OUT OF DOORS FEST, singurul festival de muzica din Costinesti, unde urca pe scena cele mai cunoscute trupe de renume national si international, din industria muzicii rock si electro.
Locul de desfasurare al festivalului este White Horse Rock'n Roll Costinesti (amplasat vis-a-vis de Teatrul de Vara).
Trupa Apollo 440, primul artist international anuntat la Out of Doors Fest 2020. Pentru prima data in Costinesti, a doua oara in Romania, Apollo 440 va urca pe scena festivalului in formula de dj set. Apollo 440 este una dintre cele mai cunoscute trupe de muzica electronica, au 5 albume la activ si au cucerit lumea prin compozitii ca "Ain't talking 'bout dub", "Stop the Rock" si mixuri la piese precum "Don't fear the reaper" de la Blue Oyster Cult, sau coloana sonora a filmului Charlie's Angels.
OUT OF DOORS FEST este un festival construit pentru tineri si reprezinta o forma de manifestare a spiritului liber si creator. Scena generoasa a festivalului Out Of Doors a gazduit de-a lungul anilor, cele mai renumite trupe atat din tara, cat si din strainatate. In cadrul editiei de anul acesta vor urca pe scena trupe de alternative rock, electro jazz, funk sau hard rock, printre care si unul dintre cele ,mai cunoscute trupe de muzica electronica:
Apollo 440! Pagina oficiala OODF: https://outofdoorsfest.ro
WHITE HORSE COSTINESTI este caracterizat drept "ultimul bastion al muzicii bune" din Statiunea Tineretului a luat fiinta in anul 1999, perioada in care Costinestiul se bucura de prezenta constanta a numelor de elita ale peisajului muzical romanesc de altadata. Artisti din domeniile rock, folk, blues & jazz abandonau orice alta destinatie preferand, fara doar si poate, Costinestiul cu atmosfera lui tinereasca, joviala si, mai presus de toate, caracterizata de o liberatate frumoasa, creativa si energizanta.
Pagina oficiala: https://white-horse.ro
Biletele se gasesc in format electronic pe www.iabilet.ro si in magazinele Flanco, Carturesti, Metrou Unirii 1, Muzica, IQ BOX si pe terminalele Selfpay. Online, puteti plati cu cardul, Paypal,carduri de tichete culturale Sodexo, pe factura la Vodafone sau Orange sau ramburs prin Fan Courier oriunde in tara.