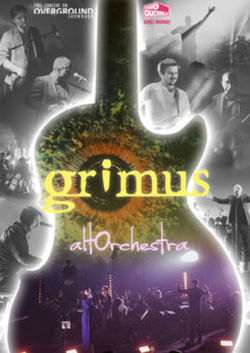 Bucuresti
22 Mai 2020
-
22 Iunie 2020
//
29 LEI
Pe 22 mai, de la ora 20.00, pe Overground Showroom are loc premiera online a concertului Grimus simfonic - ALTOrchestra 100, filmat in noiembrie 2018 la cinema Florin Piersic din Cluj.
In toamna anului 2018, formatia Grimus si-a reorchestrat simfonic o parte din repertoriu si a sustinut o serie de concerte alaturi de o orchestra simfonica in sali de spectacole din Bucuresti, Cluj si Iasi. Concertele au facut parte din proiectul national ALTOrchestra 100, care a marcat 100 de ani de la Marea Unire prin unirea metaforica a doua stiluri muzicale diametral opuse: rock alternativ si muzica simfonica. Pe langa Grimus au mai facut parte din proiect si formatiile The Mono Jacks, byron, Zdob si Zdub si Robin and the Backstabbers.
"A fost o experienta greu de pus in cuvinte, ni se face pielea de gaina chiar si-acum cand ne amintim emotiile de pe scena. Abia asteptam sa vedem reactiile fanilor nostri cand vor vedea concertul" declara Bogdan Mezofi, solistul trupei.
Concertul va avea premiera online vineri, 22 mai, la ora 20.00 pe Overground Showroom, cea mai noua biblioteca online de concerte. Doritorii isi pot achizitiona bilete pentru premiera de pe www.iabilet.ro la pretul de 29 de lei. Dupa cumpararea biletelor, acestia vor primi la scurt timp un email cu credentialele de login in platforma Overground Showroom, unde vor avea acces la concert din momentul premierei timp de o luna. Concertul va fi de asemenea disponibil pentru toti abonatii Overground Showroom ce au optat pentru un plan tarifar recurent (lunar, anual etc.)
Despre Overground Showroom
OVERGROUND SHOWROOM este o biblioteca video on demand dedicata concertelor, ce propune un serviciu similar altor platforme de streaming video (cum ar fi Netflix). Catalogul contine concerte live ale artistilor din Romania, filmate full HD si cu sunet de inalta calitate. Concertele sunt disponibile pentru streaming 24/7, iar veniturile generate de platforma vor fi directionate catre artisti.