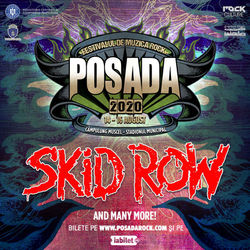 Stadionul Municipal, Câmpulung,
Campulung
14 August 2020
-
16 August 2020
//
100-200 LEI
SKID ROW la Posada Rock pe 16 august 2020!
SKID ROW, prima trupa de heavy metal care a ajuns pe locul 1 in topul Billboard, este cel dintai headliner anuntat al editiei de anul viitor a Festivalului Posada Rock, care se va desfasura pe Stadionul Municipal din Campulung Muscel, in perioada 14 - 16 august 2020.
Infiintata in 1986 si cunoscand un succes fulminant la inceputul anilor '90, SKID ROW s-a detasat clar din plutonul trupelor de la finalul erei de glorie a glam rock-ului american. Hituri care au dominat clasamentele muzicale, discuri de aur si de platina, turnee mondiale si show-uri pe stadioane pline au marcat prima parte a carierei trupei din New Jersey, in care au fost lansate albumele "Skid Row" (1989), "Slave to the Grind" (1991) si "Subhuman Race" (1995). Amestecul de balade cu succes garantat la publicul larg si piese in forta, cu riffuri metal si atitudine punk, a permis formatiei sa mearga in turneu atat cu Bon Jovi, dar si cu Pantera, printre altii.
Odata cu despartirea de vocalistul Sebastian Bach, trupa a intrat intr-un con de umbra, insa in ultimii ani activitatea concertistica a fost reluata sustinut, prin cooptarea solistului ZP Theart (Dragonforce). In prezent, SKID ROW se pregatesc de lansarea "United World Rebellion", un nou album de studio. "Cand am re-format trupa, am vrut sa fim relevanti in prezent, fara sa ne bazam exclusiv pe succesul din trecut. Asa ca am compus piese noi si am pornit in turneu", spune bassistul Rachel Bolan.
Pe 16 august 2020, americanii vor oferi un show fulminant la Posada Rock 2020, din care cu siguranta nu vor lipsi hiturile "I Remember You", "Youth Gone Wild", "18 and Life" sau "Slave to the Grind", piese care fac parte din coloana sonora a primei generatii de rockeri romani de dupa Revolutie.
SKID ROW este doar unul dintre headlinerii editiei de anul viitor a Festivalului Posada Rock. Alte nume mari internationale in recital vor fi anuntate in perioada imediat urmatoare. Lor li se vor adauga cei 10 newcomeri care vor participa la concursul care pune la bataie premii consistente, festivalul ramanand si anul viitor o rampa de lansare pentru trupele rock tinere, respectandu-si statutul de cel mai important festival concurs din tara.
Incepand de astazi, abonamentele EARLY-BIRD sunt disponibile la https://www.iabilet.ro/bilete-posada-rock-2020-48477/. la pretul promotional de 100 de lei/buc.
Vor fi disponibile doar 5.000 de abonamente si/sau bilete pentru o zi, dupa cum urmeaza:
EARLY-BIRD: 500 de abonamente la pretul de 100 de lei pana pe 15 decembrie 2019;
PRESALE 1: 1.000 de abonamente la pretul de 140 de lei pana pe 1 februarie 2020;
PRESALE 2: 1.000 de abonamente la pretul de 170 de lei pana pe 1 mai 2020;
NORMAL: 1.000 de abonamente la pretul de 200 de lei pana pe 13 august 2020;
Biletele pentru o zi se vor pune in vanzare pe 1 august, la pretul de 100 de lei/buc.
Daca evenimentul nu va fi SOLD-OUT, la intrarea in festival, preturile vor fi urmatoarele:
ABONAMENT: 250 de lei/buc.
BILET PENTRU O ZI: 150 de lei/buc.
Ca si in anii trecuti, Festivalul Posada Rock se va desfasura pe Stadionul Municipal din Campulung Muscel. Camparea va fi gratuita intr-un spatiu cu toate dotarile necesare. Copiii cu varsta pana in 12 ani vor avea acces gratuit doar insotiti de cel putin un parinte sau tutore legal detinator de bilet sau abonament valid.
Festivalul Posada Rock este organizat de Asociatia Rock Culture in parteneriat cu Primaria Municipiului Campulung, fiind proiect prioritar al Ministerului Culturii.
Biletele se gasesc in format electronic pe www.iabilet.ro si in magazinele Flanco, Diverta, Carturesti, Metrou Unirii 1, Muzica, IQ BOX, Uman, Casa de Balet si pe terminalele Selfpay. Online, puteti plati cu cardul, Paypal,carduri de tichete culturale Sodexo, pe factura la Vodafone sau Orange sau ramburs prin Fan Courier oriunde in tara.