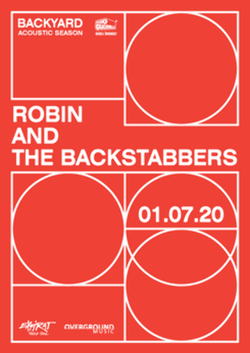 Da, se intampla! Se canta din nou.
Va fi complet altfel. Va fi cum nu s-a mai cantat pana acum. Va fi doar cum poate fi mai safe in conditiile exceptionale de azi si respectand tot ceea ce trebuie respectat. Va fi o experienta complet noua, pentru voi, pentru noi si pentru trupa. Iar concertul, asa cum va fi de acum, va fi cu adevarat intim.
Dar cel mai important e ca va fi. Si ne poti crede ca va fi cum nu te astepti sa fie. Asa ca, te rugam, citeste informatiile pana la final. Schimbam putin regulile jocului, impartim trupa, cum si noi suntem nevoiti sa fim separati. Si am vrea sa stii toate regulile cat mai de la inceput.
* Acesta este un concert altfel. Trupa va concerta fara scena, membrii trupei gasindu-se in diferite locuri din terasa
* Orele de open doors, de incepere si incheiere a concertului vor fi respectate cu strictete
* Te rugam sa ajungi la timp pentru a ne ajuta sa gestionam in siguranta fluxul de acces, procedurile de dezinfectare si igienizare a spatiului si programul concertului
* Avem posibilitatea de a vinde locuri doar la masa, in pachete de 4, 3 sau 2 persoane. Nu avem posibilitatea de a vinde bilete individuale. Recomandam asadar sa faci din concertele Backyard o experienta de grup
* Asigura-te ca stii gradul de vizibilitate al locului ales. Din orice zona concertul se va auzi la fel de bine
- Albastru - Locurile in care se vor afla membrii trupei
- Verde - Se vede tot, exista vizibilitate buna catre toti membrii trupei
- Galben - Nu se vede chiar tot, exista vizibilitate doar catre o parte din membrii trupei
* Te rugam insistent sa nu muti mesele si scaunele. Acestea sunt distantate conform normelor in vigoare. Din acest motiv nu exista bilete in picioare sau fara loc
* Te rugam sa respecti toate normele in vigoare atat pentru siguranta ta, cat si a celorlalti. Poarta masca si respecta distanta de 1.5 metri atunci cand esti la acces, la bar sau in spatiile comune. Nu veni la concert daca prezinti simptome ale vreunei infectii respiratorii (tuse, stranut, febra, stare generala proasta). Ai in permanenta grija de tine si de ceilalti
* Iti multumim ca esti alaturi de noi in repornirea industriei live. Prezenta ta insemna acum mai mult decat a insemnat vreodata. Vom face tot ce putem ca experinta ta sa fie una cat mai buna in conditiile date. Si suntem siguri ca pe parcurs, va fi din ce in ce mai bine
Saptamanal, miercurea, din 1 iulie, seria de concerte open air cu artisti locali din zona alternative – Backyard Acoustic Season – se reinstaleaza in terasa de la Expirat, la initiativa Overground Music, intr-un format reconsiderat si adaptat situatiei si locului, renuntand la tiparele unui concert clasic, pentru un public restrans – aproximativ 100 dintre voi per reprezentatie.
Primii cu care ne revedem sunt, asa cum am simtit ca trebuie, Robin and the Backstabbers.
Adunati in 2010 de catre solistul si compozitorul Andrei Robin Proca dupa o calatorie solitara de o saptamana prin Muntii Calimani, Robin and the Backstabbers isi descriu muzica drept "pop melodramatic". Nu au ajuns o trupa de coveruri dupa albumul "Graceland" al lui Paul Simon, asa cum isi imaginau la inceput, dar au reusit sa ia pe sus scena de muzica alternativa din Romania cu melanjul lor de rock eclectic si versuri moderniste, criptice. De la concertele lor nu pleaca nimeni suparat.
Mult-asteptatul epilog al trilogiei Bacovia Overdrive de Robin and the Backstabbers, "Vladivostok", a fost lansat pe 30 noiembrie 2019 printr-un concert la Arenele Romane din Bucuresti.
De la capatul orasului, de la capatul oceanului, de la marginea pamantului vine "Vladivostok 2" – un cantec Robin and the Backstabbers de pe noul album, cu un videoclip mesterit de Barna Nemethi. Dintr-o noapte pe deal, cu satul in flacari vazut in departare, vine cantecul "Tarantella (O Casa, Candva)" – cu un videoclip realizat de Horia Cojan despre portalurile energetice din Muntii Bucegi. Iar de la Sfarsitul Lumii si al Tuturor Lucrurilor vine "M E C A N I C A F I N A" – dansul peste ruine si peste amintirile ruinelor si peste amintirile amintirilor pe care il vei dansa si tu, candva, intr-un alt oras, intr-o alta lume.
Categoriile de bilet si preturile sunt urmatoarele:
• SE VEDE TOT SI SUNTEM 4 (4 x bilete la 80 lei si locuri la masa in zona cu vizibilitate buna) – 320 lei
• SE VEDE TOT SI SUNTEM 2 (2 x bilete la 80 lei si locuri la masa in zona cu vizibilitate buna) – 160 lei
• NU SE VEDE CHIAR TOT SI SUNTEM 4 (4 x bilete la 60 lei si locuri la masa in zona cu vizibilitate redusa) – 240 lei
• NU SE VEDE CHIAR TOT SI SUNTEM 3 (3 x bilete la 60 lei si locuri la masa in zona cu vizibilitate redusa) – 180 lei