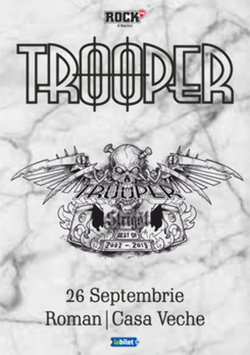 Casa Veche, Roman,
Roman
26 Septembrie 2020
//
30 LEI
In luna septembrie Trooper pornesc turneul "Strigat: Best of 2002 – 2019".
Reguli de acces decise de catre organizator:
1. Biletul este valabil imprimat alb-negru sau color, cu exceptia cazurilor in care alta varianta este specificata de catre organizatori.
2. Un bilet permite accesul unei singure persoane la eveniment.
3. Nu instrainati biletele in forma lor electronica sau fizica si nu trimiteti catre alte persoane mesajele de e-mail prin intermediul carora v-au fost trimise biletele pe care le-ati cumparat.
4. Doar biletele vandute prin firme acreditate de catre organizator sunt valabile.
5. In cazul in care se constata ca mai multe persoane prezinta acelasi bilet, cu acelasi cod de bare, doar prima persoana care ajunge intai la sala de spectacol are acces la eveniment, organizatorii si firmele de ticketing implicate in eveniment rezervandu-si dreptul de a retine celelalte bilete care prezinta un cod de bare deja scanat si datele celor care le prezinta, pentru a le transmite autoritatilor competente.
6. Organizatorul nu va oferi daune celor care prezinta bilete care nu sunt valide sau bilete ale caror coduri de bare au fost scanate in prealabil si care au permis accesul unei alte persoane la eveniment.
7. Organizatorul are dreptul sa-l anuleze sau sa modifice data evenimentului cu nu mai putin de 4 ore de inceperea evenimentului.
8. In eventualitatea putin probabila in care un eveniment a fost amanat/reprogramat din cauze ce nu tin strict de orgazinator, cumparatorul are dreptul sa participe la reprogramarea concertului/evenimentului in baza biletului deja achizitionat si emis in prealabil, dar fara sa beneficieze de returnarea
contravalorii acestuia.
9. In cazul de Anulare a unui concert/eveniment din cauze ce tin strict de orgazinator, cumparatorul are dreptul sa ceara inapoi contravaloarea biletului. Returnarea contravalorii cade in sarcina organizatorului si se va face direct sau prin intermediul firmelor de ticketing.
10. Organizatorul are obligatia de a comunica detaliile despre anularea/amanarea evenimentului si a modalitatilor de recuperare a contravalorii biletului dupa minimum 15 zile de la producerea
nefericitului eveniment.
11. Este interzis accesul cu:
– sticle;
– mancare sau bauturi de orice fel;
– artificii, arme, obiecte periculoase;
– obiecte cu laser (ex. pointere, brichete cu laser);
– aparate foto/video profesionale sau semiprofesionale (cu obiectiv detasabil);
– aparate de inregistrare audio-video profesionale sau semiprofesionale;
12. Organizatorii nu vor stoca si nu vor pazi obiectele prezentate in lista de mai sus pe durata evenimentului!
13. Accesul in spatiul de eveniment va fi permis unei singure persoane pe baza biletului valid, o singura data. Biletul in baza caruia se va face accesul va trebui pastrat pe toata durata concertului.
Peste 40 de orase se afla pe lista. Momentan sunt anuntate primele 12 date. Cele mai iubite piese Trooper vor rasuna in fiecare oras. De la "Strigat", "Tari ca muntii" si "Amintiri", trecand prin "O viata este prea mult" si "Trec anii", pana la "Doua roti" si "Destin".
Simultan cu anuntarea primelor date din turneul "Strigat", Trooper anunta si relansarea magazinului virtual de pe pagina oficiala www.trooper.ro. Va asteptam acolo pentru a va putea bucura de produse originale Trooper.
Dupa noua albume de studio lansate in decursul a 17 ani, Trooper pregateste lansarea unui material "best of". "Strigat: Best of 2002 – 1019" va aparea in format dublu CD, dublu vinil si digital. Cele 17 piese alese sunt remixate si remasterizate de celebrul inginer american Peter Rutcho (Parkway Drive, Deez Nuts, Revocation) in studioul in care a fost lucrat si "Stefan cel Mare – Poemele Moldovei". Majoritatea materialului a fost reimprimat pentru a avea uniformitate si o calitate superioara a sunetului.
Despre toate acestea, Coiotu' a declarat: "Am lansat primul album in 2002. De atunci am traversat prin mai multe generatii de ascultatori. O generatie se schimba cam la sapte ani. Prin urmare, am considerat ca a sosit momentul sa lansam o colectie "best of", asa cum o vedem noi dupa atatia ani.
Noua albume de studio inseamna ceva. Ne-am pus pe remixat si remasterizat pentru a le oferi prietenilor formatiei un material de colectie. Chiar asta o sa fie: un material de colectie. Esenta a tot ce este mai bun in discografia Trooper. Nu vreau sa spun cat de greu a fost sa alegem doar 17 piese din peste 100. Insa important este ca am ajuns toti sase la un numitor comun. Unele piese au fost reinregistrate in intregime pentru ca sursele initiale au fost pierdute. Vor exista si ceva surprize. Pentru pasionati, ne-am gandit sa punem pe piata si varianta vinil."
In cei peste 20 de ani de activitate, Trooper a lansat noua albume de studio, a cantat pentru mai mult de 600.000 de oameni, in peste 750 de concerte, si a urcat pe scena alaturi de Iron Maiden, Scorpions, Judas Priest, Whitesnake, Europe, Manowar, Nazareth, WASP etc.
Biletele sunt disponibile in reteaua IaBilet si in format electronic pe www.iabilet.ro, in magazinele Flanco, Diverta, Carturesti, Metrou Unirii 1, Muzica, IQ BOX, Uman si pe terminalele Selfpay. Online, puteti plati cu cardul, Paypal,carduri de tichete culturale Sodexo, pe factura la Vodafone sau Orange sau ramburs prin Fan Courier oriunde in tara.