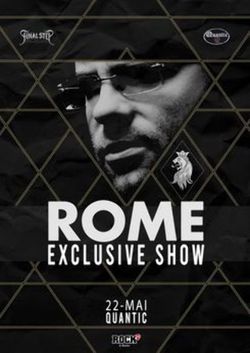 Final Step Productions presents an anniversary show of the Luxemburg based neo-folk band ROME, celebrating 15th years of existence in Quantic Club. This show will be exclusive and will not be part of a tour. Support by Encore!
Jerome Reuter is a tireless creator, an overly creative mind with immense musical output. With "The Lone Furrow" the 14th studio album with his project ROME was released in August 2020, again on the dark alternative label Trisol Music.
ROME often deals with historical and weighty themes in his lyrics and spices them up with set pieces from world literature. Quotations from Brecht to Jünger, from Camus to Celine, from Burroughs to London can be found. Reuter is not afraid to tackle delicate, highly topical themes with a healthy dose of sarcasm and ambiguity.
ROME describes his style as "Dark Folk", or "Chanson Noir". In the band's own style, various musical traditions mix together: The chanson of his declared idols Jacques Brel and Léo Ferré, sometimes meets cool rock and wave influences such as from Joy Division and New Model Army. On the current album, the Luxembourger with the sonorous voice returns from No-Wave Folk to the martial Neo-Folk of his roots. Reuter's songs - mostly as parts of cross-genre concept albums - are able to convince live intellectuals, Wacken disciples, Goths and Punks. A sworn in fan community has already won ROME all over the country.
ROME is dedicated to a unique artistic vision, stands on the side of the outsiders and is an ambassador of melancholy by means of elegiac hymns that are reminiscent of protest songs.
Biletele se gasesc in format electronic pe www.iabilet.ro si in magazinele Flanco, Metrou Unirii 1, Muzica, IQ BOX,Uman, si pe terminalele Selfpay. Online, puteti plati cu cardul, Paypal,carduri de tichete culturale Sodexo, pe factura la Vodafone sau Orange sau ramburs prin Fan Courier oriunde in tara.