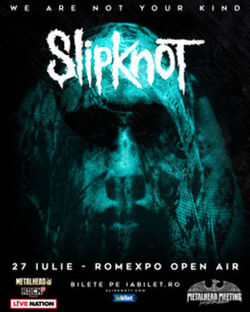 Pe 27 iulie va asteptam la Romexpo in aer liber la a noua editie a Metalhead Meeting alaturi de Slipknot. Primele 1.000 de bilete au preturi la oferta earlybird si se pun in vanzare pe 24 ianuarie la ora 10:30 pe iabilet.ro.
Slipknot este o formatie care nu mai are nevoie de nicio prezentare. Au scris istorie si continua sa o faca. Bazele formatiei au fost puse in 1995 de Shawn Crahan, Joey Jordison si Paul Gray. Dintre acestia doar Shawn continua sa urce pe scena alaturi de trupa. Joey Jordison nu mai face parte din fromatie din 2013. Paul Gray in schimb ne-a parasit mult prea devreme. Artistul a murit in 2010. De-a lungul carierei, Slipknot a fost nominalizata la 10 Premii Grammy. Acestia au reusit sa si castige in 2006 cu 'Before I Forget', nominalizare pentru Best Metal Performance. In plus artistii din Iowa au castigat de sapte ori Kerrang! Awards, de patru ori Metal Hammer Golden God Awards si de cinci ori Revolver Golden God Awards.
Cele sase albume de studio lansate pana in prezenta le-au adus 15 Discuri de Platina si 24 de Discuri de Aur. Ca orice formatie care a avut un impact major asupra culturii muzicale, Slipknot nu a fost scutita de controverse. In 2003, doi tineri au dat vina pe versurile piesei 'Disasterpiece' pentru o crima comisa, iar apoi, diferite alte episoade de violenta au fost vazute ca fiind influentate de muzica Slipknot. Vorbind despre formatiile care si-au pus amprenta asupra lor, membrii Slipknot au declarat ca stilul Slipknot s-a nascut si datorita faptului ca fiecare muzician in parte a fost influentat de diferiti artisti, de la Jimi Hendrix la Pantera, de la Johnny Cash la Mayhem sau de la Bestie Boys la Cannibal Corpse. Dupa 25 de ani de activitate, Slipknot si-a castigat locul in galeria formatiilor legendare ale scenei metal internationale iar acum au ajuns la randul lor sa influenteze mii de artisti din intreaga lume.
Despre turneul 'We Are Not Your Kind', Corey Taylor a declarat:
"Ne simtim bine inapoi in Europa si UK. Nu conteaza de cate ori venim, nu ne saturam niciodata. Un singur lucru este clar: Publicul este grozav!"
Pe langa faptul ca albumul a ajuns pe prima pozitie in UK, Slipknot, care sunt in egala masura atat un fenoment cultural cat si o formatie de succes, a debutat pe prima pozitie cu acest nou material in tari precum Statele Unite, Australia, Canada, Japonia, Irlanda si Belgia dar a ajuns in Top 3 si in Germania, Franta, Norvegia, Italia, Olanda si Noua Zeelanda.
Review-urile pentru album au fost scrise la superlativ de presa din toata lumea, atat cea de specialitate cat si de catre cea generala. Consequence of Sound a numit 'We Are Not Your Kind' ca fiind "unul dintre cele mai puternice albume din cariera lor" iar The Independent l-a comparat cu Iowa, spunand ca dinamica acestuia ar putea fi chiar superioara celui de al doilea album al formatiei.
Bilelele au urmatoarele preturi:
- primele 1000 de bilete:
Psycho - 379 lei
Snuff - 299 lei
Plague - 209 lei
- presale:
Psycho - 399 lei
Snuff - 329 lei
Plague - 229 lei
- la acces:
Psycho - 430 lei
Snuff - 350 lei
Plague - 250 lei
La pretul tuturor biletelor comandate in earlybird si presale se adauga comisionul de emitere bilet de 10 lei.
Se pun in vanzare doar 10.000 de bilete pentru acest show.
Biletele se gasesc in format electronic pe www.iabilet.ro si in magazinele Flanco, Diverta, Carturesti, Metrou Unirii 1, Muzica, IQ BOX, Uman, Libmag si pe terminalele Selfpay. Online, puteti plati cu cardul, Paypal, pe factura la Vodafone sau Orange sau ramburs prin Fan Courier oriunde in tara.
Copiii sub 2 ani au acces gratuit insotiti de un adult posesor de bilet valabil.
Recomandam fanilor care vin cu copii sub 10 ani sa le proteje acestora urechile cu casti speciale. La concert volumul va fi puternic si acesta poate afecta auzul copiilor.
Organizatorii vor organiza suficiente puncte de vanzare a bauturilor pentru a evita cozile. Recomandam totusi sa veniti la concert din timp si nu fix inainte de ultima trupa. Este normal ca la orele de varf, fix inainte de intrarea pe scena a trupei cand se atinge capacitatea maxima a locatiei, barurile sa se aglomereze. Organizatorii vor oferi un program detaliat cu cateva saptamani inainte de concert.
Va rugam consultati programul final cu 3 zile inainte de eveniment pe metalhead.ro
Accesul cu umbrele este interzis.

Un eveniment METALHEAD & BestMusic Live Concerts powered by ROCK FM