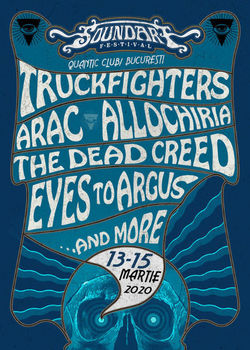 Ajuns la cea de-a 4-a editie, festivalul Soundart, ce va avea loc intre 13-15 martie 2020 in Clubul Quantic din Capitala, isi propune sa depaseasca sfera sonoritatilor prog si stoner si sa fie un festival al muzicii percepute ca arta de sine statatoare.
De la sonoritati sludge si post-metal, trecand prin esenta stoner-ului si ajungand pana la avantgardismul neofolk-ului modern, acest Soundart se anunta inca de pe acum ca fiind cea mai interesanta si experimentala editie, o reala incercare de extindere a granitelor audio-vizuale.
Bilete si abonamente la pret de presale pot fi achizitionate de pe iabilet.ro
Primele trupe confirmate in cadrul acestei editii sunt Truckfighters (parintii stoner-ului suedez, alaturi de Dozer, descendentii de drept ai celor de la Kyuss si Fu Manchu), Allochiria (cea mai buna trupa de sludge/post-metal din Grecia, cu un show scenic pe masura), ARAC Ensemble (sau noul proiect de neo-dark folk al marelui grafician autohton Costin Chioreanu, alaturi de minunata Sofia Sarri la voce si probabil cel mai bun tobosar din tara, Adrian Tabacaru), The Dead Creed (acoustic death-doom din Grecia, furnizat de catre un singur om, o adevarata experienta eterica) si Eyes To Argus (eclectic experimental post-rock din Malta).
Mai multe trupe vor fi anuntate in urmatoarea perioada.
Abonamentele pot fi achizitionate la oferta de presale la pretul de 170 RON si ofera accesul in cadrul festivalului pentru cele trei zile, 13 – 15 martie 2020.
Bilete SoundArt Festival 2020 ziua I - 40 RON - The Dead Creed, ARAC Ensemble
Bilete SoundArt Festival 2020 ziua II - 90 RON - Eyes To Argus
Bilete SoundArt Festival 2020 ziua III - 90 RON - Allochiria, Truckfighters
Incepand cu prima zi a festivalului abonamentele si bilete vor putea fi achizitionate si din Quantic Club la urmatoarele preturi: Abonament - 200 RON, bilet ziua I – 50 RON, bilet ziua II -120 RON, bilet ziua III – 120 RON.
Trupe confirmate pana in acest moment:
Truckfighters – stoner, Suedia - https://youtu.be/H6IwRVLPtG8
Allochiria – sludge/post-metal, Grecia - https://youtu.be/rPF9Bjr8jms
ARAC Ensemble – neo-dark folk, Romania - https://youtu.be/1femOwTihjA
The Dead Creed – acoustic death-doom, Grecia - https://youtu.be/yYdC7lf1c94
Eyes To Argus – experimental post-rock, Malta - https://youtu.be/DQ99ED1dR1o
Biletele se gasesc in format electronic pe www.iabilet.ro si in magazinele Flanco, Diverta, Carturesti, Metrou Unirii 1, Muzica, IQ BOX, Uman, Casa de Balet si pe terminalele Selfpay. Online, puteti plati cu cardul, Paypal,carduri de tichete culturale Sodexo, pe factura la Vodafone sau Orange sau ramburs prin Fan Courier oriunde in tara.