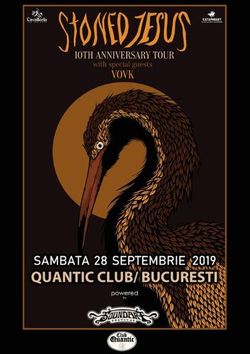 SoundArt va invita sa va bucurati de un concert special Stoned Jesus sambata, 28 septembrie 2019, pe scena clubului Quantic din Bucuresti. Evenimentul face parte din turneul aniversar de 10 ani al trupei si este singurul concert pe care Stoned Jesus il va sustine in Romania in acest an
Cu siguranta cea mai cunoscuta trupa din Europa de Est cand vine vorba de stoner rock/psychedelic, ucrainenii de la Stoned Jesus sunt renumiti pentru regalul de doom metal traditional, stoner rock si psychedelic pe care il prezinta cu succes fanilor de fiecare data cand urca pe scena. Turneul aniversar de 10 al trupei este un adevarat festin muzical in al carui meniu vom regasi cele mai indragite piese ale trupei precum "I'm the mountain", "Black Woods". "Bright like the morning" sau "Electric Mistress".
In calitate de invitati speciali ai turneului, alaturi de Stoned Jesus ii vom vedea si pe ucrainenii de la Vovk (post-hardcore, stoner si progressive rock). Vovk vor aduce in fata publicului din Bucuresti albumul lor de debut intitulat "Lair".
Pentru acest concert bilete sunt disponibile in reteaua www.iabilet.ro , iar pretul lor este de 50 de lei in perioada de presale.
Stoned Jesus:
www.facebook.com/stonedjesusband/
https://youtu.be/cCaInA1NeZE
https://youtu.be/0J9MDi-Twuw
VOVK:
www.facebook.com/vovkband/
https://youtu.be/EVYvOCHEqIM
Biletele se gasesc in format electronic pe www.iabilet.ro si in magazinele Flanco, Diverta, Carturesti, Metrou Unirii 1, Muzica, IQ BOX, Uman, Casa de Balet si pe terminalele Selfpay. Online, puteti plati cu cardul, Paypal,carduri de tichete culturale Sodexo, pe factura la Vodafone sau Orange sau ramburs prin Fan Courier oriunde in tara.