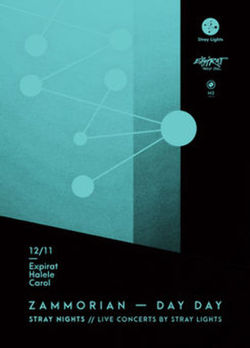 November 12th at Expirat: The third back-to-back gig of the 'Stray Nights' series with performances from the post-psychedelic collective Zammorian & our indie wonders DayDay.
'Stray Nights' are a series of concerts organized by the Stray Lights, a Romanian indie music community established by Orkid, Zammorian, Second Wave, DayDay, Greetings Sugar & Dor Marunt. We believe that only with a common effort of our local bands, audience, clubs, promoters, festivals & music critics the Romanian music scene will evolve. We aim to discover & support new bands & new acts & also help the local scene in anyway we can.
Zammorian is a post-psychedelic / progressive post-rock collective that creates music, visuals and stories. It was founded by a group of Romanian artists and designers in late 2014.
Their music is instrumental, cinematic with progressive and electronic influences. Underneath the compositions lie mythos throughout short stories and narrative arcs, a distinct visual language and symbolism. These are revealed in time, sometimes through posters and live visuals. The entire story will be released as a novel.
The immersive shows are accompanied by a set of abstract live visuals, generated by Awkwarizmi, the VJ artist of the group, based on the story and the music.
The Theory of Absence [Pt. I] is available on all major streaming platforms & stores since its release in May 2019: Spotify, iTunes, YouTube, Bandcamp, etc.
DayDay is an alternative indie band from Bucharest, Romania. Remembering night by day and forgetting day by night, DayDay arcs with brightening mellow chords from which it noons with high heat harmonies. Finally setting somewhere in the West, the band dims those moods with cowboy hats and lonesome lullabies.
Andrei Erdei - vocals, lead guitar
Ioana Negrea & Ruka Furtuna - vocals, charm
George Irimescu - bass guitar
Serban Popadiuc - guitar