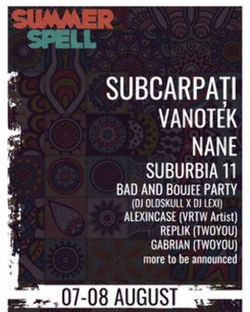 Craiova,
Craiova
07 August 2020
-
08 August 2020
//
65 LEI
Because a little bit of summer is what the whole year is all about.
We created a place where adventure and friendship combines, where freedom, music and your state of mind becomes one.
We created a complete experience of discovering your true self.
Alongside you we have the pleasure to continue the story this year and to create something really memorable, something almost magical, like a spell that will not cease to surprise you.
Line-up phase 1:
SUBCARPATI
VANOTEK
NANE
SUBURBIA 11
BAD AND BOUJEE PARTY [DJ Oldskull x Dj Lexi]
ALEXINCASE (VRTW Artist)
REPLIK (TWOYOU)
GABRIAN (TWOYOU)
many more to be announced
Let's meet again on 7-8th August and create some memories!
Biletele se gasesc in format electronic pe www.iabilet.ro si in magazinele Flanco, Diverta, Carturesti, Metrou Unirii 1, Muzica, IQ BOX, Uman, si pe terminalele Selfpay. Online, puteti plati cu cardul, Paypal,carduri de tichete culturale Sodexo, pe factura la Vodafone sau Orange sau ramburs prin Fan Courier oriunde in tara.