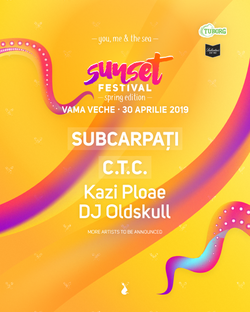 Str Pescarusului, Vama Veche, Constanta,
Vama Veche
30 Aprilie 2019
//
60 LEI
Sunset Festival Spring Edition Vama Veche Inca nu stii unde sa-ti petreci 1 mai? Anul asta noi il sarbatorim pe 28 Aprilie. Convinge-ti gasca de prieteni, cumparati-va bilete si hai in Vama Veche la Sunset Festival.
LINE-UP
SUBCARPATI
C.T.C.
KAZI PLOAE
DJ OLDSKULL
and more
Primul set de bilete vor fi in nr. de 400 pretul de 60 lei, denumite: Early bird cu descrierea:promotie valabila pentru primele 400 de bilete
You, me & the sea.
www.sunsetfestival.ro
Biletele se gasesc in format electronic pe www.iabilet.ro si in reteaua fizica iabilet.ro/retea: Magazinele Flanco, Diverta, Carturesti, Hard Rock Cafe, Cafe Deko, Club Vintage, Club Quantic, Expirat Halele Carol (in intervalul orar: 18:00-22:00), Beraria H, Metrou Unirii 1 langa casa de bilete Metrorex, Magazinul Muzica, Magazinele IQ BOX - Telekom, Agentiile Perfect Tour, Magazinele Uman, sediul librariei Libmag (Bulevardul I.C. Bratianu, nr. 6, Sector 3), Casa de balet si pe terminalele Selfpay din toata tara.
Online pe www.iabilet.ro, puteti plati cu Cardul, prin Paypal, pe factura la Vodafone sau Orange cu plata la sfarsitul lunii sau ramburs cu plata cash prin Fan Courier oriunde in tara.