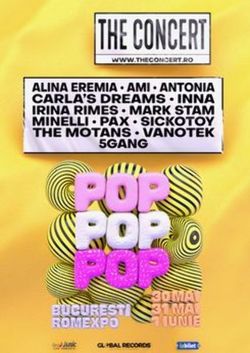 Romexpo,

Bucuresti

Bd Marasti , nr. 65-67
30 Mai 2020
-
01 Iunie 2020
//
94-404 LEI
Vara anului 2020 incepe cu THE CONCERT - concertele tale preferate pe aceeasi scena, care dureaza trei zile - 30, 31 mai si 1 iunie, la Romexpo! Un eveniment de muzica si entertainment unic in tara, care aduce un concept vibrant, plin de culoare si energie - POP POP POP.
Alina Eremia, AMI, ANTONIA, Carla's Dreams, INNA, Irina Rimes, Mark Stam, Minelli, PAX, Sickotoy, The Motans, Vanotek si 5GANG sunt artistii care vor urca pe scena de la Romexpo.
THE CONCERT ofera mediul ideal pentru abordarea creativa a mai multor stiluri artistice, iar conceptul evenimentului de anul viitor vine cu nuante de pop art, pop music, pop culture, toate prezentate in culori vii, in spiritul copilariei si al libertatii.
Cele trei zile de concerte vor aduce un concept inedit, un mix fantastic intre unii dintre cei mai apreciati artisti ai momentului, muzica buna, distractie si, nu in ultimul rand, baloane de toate formele si culorile. Toate acestea, dar si multe alte surprize vor fi ingredientele evenimentului THE CONCERT.
Conceptul POP POP POP va transforma Romexpo intr-o zona uriasa de activari si jocuri pline de culoare, folosind forme supradimensionate, lumini, culorile specifice verii si, cel mai important, concerte sustinute de cei mai in voga artisti romani.
Biletele si abonamentele pentru cele trei zile de concerte au fost puse in vanzare si pot fi achizitionate de pe iabilet.ro.
Acestea au preturi earlybird pana pe 20 ianuarie si pot fi cumparate la urmatoarele preturi:
ABONAMENTE de 3 zile
VIP - 399 lei, Fan Zone - 229 lei, Acces General - 159 lei
VIP - pe platforma la inaltime - doar 300 de locuri
Fan Zone - in fata scenei - doar 1000 de bilete
Acces General - in spatele Fan Zone
Dupa 20 ianuarie preturile cresc la 449 lei, 259 lei respectiv 189 lei
La pretul tuturor biletelor se adauga comisionul de ticketing de 5 lei.
Copiii sub 2 ani au intrarea gratuita insotiti de un adult.
Biletele si abonamentele ofera acces doar in categoriile respective inscrise pe bilet.
Un eveniment BestMusic Live Concerts si Global Records.