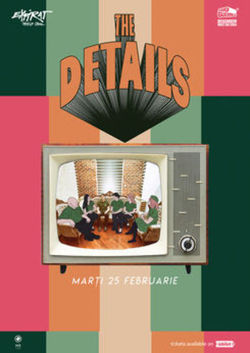 O prezenta placuta, colorata, si asortata, The Details canta si incanta cu power pop de cea mai inalta calitate. Pe 25 februarie la Expirat.
The Details reda viata muzicii anilor '60, presarand-o cu armonii bogate, influente de surf, jazz, avantgarde, folk, si dream pop, din care rezulta cea mai frumoasa coloana sonora pentru cele mai pure si intense sentimente.
Continand muzicieni din Coma, Illuminati, si Lost Society, proiectul a fost deja laudat de publicatii din strainatate, dar si de membrii unor trupe precum The Doors, The Beach Boys, Faith No More, Big Star, Iggy & The Stooges, Einstürzende Neubauten, Fugazi, sau Henry Rollins. Cu proaspat lansatul EP de debut "To Charles Dickens and Back" - inregistrat in Marea Britanie si la Real Sound & Vision Studios alaturi de Victor Panfilov, ce beneficiaza de invitati care au lucrat cu Paul McCartney, Bob Dylan, The Beach Boys, si Brian May (Queen).
The Details si-au inceput cariera concertistica la finele anului 2017, avand deja la activ concerte de succes in cluburi din Bucuresti (Arenele Romane, Hard Rock Cafe, Control, si multe altele), Timisoara, Ramnicu Valcea, Pitesti, Brasov, Constanta, si Cluj, la festivaluri ca Femei pe Matasari, Green Sounds Fest (pe aceeasi scena cu The Hives), DokStation Film Fest, Bucharest Christmas Market, Craft Beer Fest, sau Rocanotherworld (Iasi).
Cariera concertistica a inclus impartirea scenei cu trupe precum The Hives (Sue), Crazy Town (SUA), Don Letts (arhivistul si regizorul videoclipurilor The Clash), Bosquito, Vita de Vie, Coma, si a culminat de curand cu 2 recitaluri la The Cavern Club (unde si-au inceput cariera cei de la The Beatles) din Liverpool, UK, in cadrul celui mai mare festival de power pop, numit International Pop Overthrow.
Si frecventele radio i-au primit cu urechile deschise, pe posturi precum Radio Guerilla, Radio Romania Actualitati, Rock FM, Radio Romania Cultural, TanaNana FM, Gold FM, si Radio Seven, dar si pe plan international, la emisiuni precum "Coverville" din Colorado (SUA), Ice Cream Man Power Pop (Suedia, UK, Japonia, Canada), sau "The Watt From Pedro Show" din California, a basistului Mike Watt (Iggy Pop & The Stooges, Sonic Youth, Minutemen).
Facebook: https://www.facebook.com/theofficialdetails/
YouTube: https://www.youtube.com/channel/UCWdmNw38aemf7nCVejcAInw
Biletele se gasesc in format electronic pe www.iabilet.ro si in magazinele Flanco, Carturesti, Metrou Unirii 1, Muzica, IQ BOX si pe terminalele Selfpay. Online, puteti plati cu cardul, Paypal,carduri de tichete culturale Sodexo, pe factura la Vodafone sau Orange sau ramburs prin Fan Courier oriunde in tara.