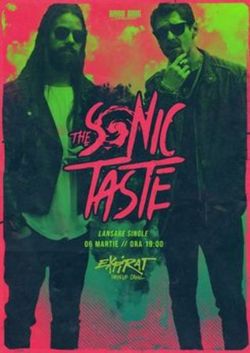 Dupa o pauza de aproape 3 luni, The Sonic Taste lanseaza primul single al anului 2020 in Expirat, pe 6 martie. The Sonic Taste au surprins publicul la fiecare piesa, din punct de vedere stilistic, si ne asteptam ca in 2020 sa faca acelasi lucru. Ca la orice show The Sonic Taste, nu vor lipsi invitati si piese surpriza.
No hard feelings. Just rock'n'roll.
The Sonic Taste este o trupa de rock'n'roll bucurestean, formata in 2018 de doi membri: Mircea Petrescu (voce si chitara) si Mihai Nicolau aka "Baby Jesus" (tobe).
Abordarea muzicala a celor doi este una fresh cu influente variate, de la punk pana la blues-rock, la country si chiar la sonoritati agresive - care sa aduca "un nou vibe in deja aproape monotonul rock romanesc".
O scurta, dar precisa descriere a trupei ar fi: "When Biffy meets Grohl and drinks with Liam" - adica un mix intre Biffy Clyro, Dave Grohl si Liam Gallagher.
Primul single al trupei, "In Your Eyes", a fost inregistrat la StartRec Studios, alaturi de Liviu Popescu (bass), si a fost mixat de Mircea Petrescu si masterizat de Turcu Alex (chitaristul Deliei) iar in luna iulie bãietii au lansat al 3-lea single – "Different".
"Different" este singura colaborare facuta de The Sonic Taste, respectiv cu celebrul producator / beatmaker Dribbler.
The Sonic Taste inseamna:
Mircea Petrescu - voce/chitara
Mihai "Baby Jesus" Nicolau - tobe/percutii
Experienta muzicala a celor doi membri nu este de neglijat, acestia facand parte din numeroase trupe locale si avand peste 10 ani de cariera in scena autohtona. Printre trupele in care acestia au activat, trebuiesc mentionate Cobe, Running Clouds, Up To Eleven, precum si colaborari cu artisti consacrati pop si hip-hop.
Facebook: https://www.facebook.com/thesonictaste
YouTube: https://www.youtube.com/channel/UCRcFIVymslmd_TsTSIDkaow
Instagram: https://www.instagram.com/thesonictaste/
#thesonictaste #newsingle #expirat #darksideentertainment
Biletele se gasesc in format electronic pe www.iabilet.ro si in magazinele Flanco, Carturesti, Metrou Unirii 1, Muzica, IQ BOX si pe terminalele Selfpay. Online, puteti plati cu cardul, Paypal,carduri de tichete culturale Sodexo, pe factura la Vodafone sau Orange sau ramburs prin Fan Courier oriunde in tara.