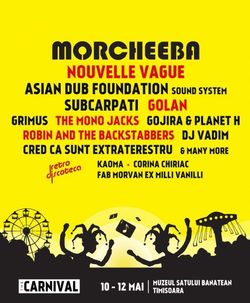 Strada Avram Imbroane 1,
Timisoara
10 Mai 2019
-
12 Mai 2019
//
39-59 LEI
Cel mai mare eveniment street food din Europa ajunge la Timisoara intre 10 si 12 mai, la Muzeul Satului Banatean. Primii artisti confirmati sunt: Morcheeba, Nouvelle Vague, Asian Dub Foundation Sound System, Subcarpati, Golan si multi altii.
The Carnival vine la Timisoara! Food truck-urile tale preferate se aduna la Muzeul Satului Banatean, intre 10 si 12 mai, pentru a lua parte la cel mai mare festival gastronomic din Europa intr-o locatie neasteptata. Bucura-te de un rasfat culinar caruia nu-i poti rezista, de concerte senzationale si manifestari cool pentru toti pasionatii de street art!
Timp de 3 zile ia parte la o experienta unica, unde 40 de vendori te poarta intr-o calatorie gastronomica...la muzeu! Aici ne gasesti cu burgeri suculenti, cei mai buni wursti la gratar, sandwich-uri de tinut minte, pulled pork afumat in cuptor, servit in chifla pufoasa, tacos & burritos ca la mama lor mexicana, paella de pe coasta de est a Spaniei, grills & barbeques si deserturi de nerefuzat. Yummy!
Pentru ca mancarea buna merge neaparat cu muzica de calitate, atmosfera este completa doar cu un playlist pentru toate gusturile. Morcheeba se intoarce pe scena de la The Carnival pentru a da tonul distractiei alaturi de DJ Vadim, Nouvelle Vague, Asian Dub Foundation Sound System, Subcarpati si multi altii. Asadar, te asteapta trei zile de neuitat alaturi de artisti locali, dar si din afara!
Food truck-uri pline ochi cu mancare, concerte de neuitat si un show garantat! Manifestarile street art te invita sa traiesti alaturi de noi vibe-ul de Carnaval si sa te bucuri de o experienta street food intr-o locatie surprinzatoare. Asadar, intre 10 si 12 mai esti invitatul nostru special la un adevarat spectacol de culori si senzatii!
Taste the Carnival!
Biletele se gasesc in format electronic pe www.iabilet.ro si in reteaua fizica iabilet.ro/retea: Magazinele Flanco, Diverta, Carturesti, Hard Rock Cafe, Cafe Deko, Club Vintage, Club Quantic, Expirat Halele Carol (in intervalul orar: 18:00-22:00), Beraria H, Metrou Unirii 1 langa casa de bilete Metrorex, Magazinul Muzica, Magazinele IQ BOX - Telekom, Agentiile Perfect Tour, Magazinele Uman, sediul librariei Libmag (Bulevardul I.C. Bratianu, nr. 6, Sector 3), Casa de balet si pe terminalele Selfpay din toata tara.
Online pe www.iabilet.ro, puteti plati cu Cardul, prin Paypal, pe factura la Vodafone sau Orange cu plata la sfarsitul lunii sau ramburs cu plata cash prin Fan Courier oriunde in tara.