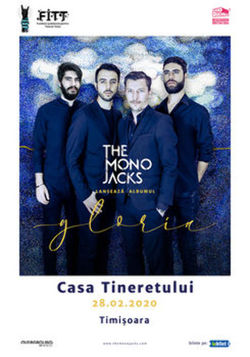 Zona Soarelui, Timișoara,
Timisoara
28 Februarie 2020
//
40-50 LEI
Vineri, 28 februarie 2020, la Casa Tineretului din Timisoara (str. Aries nr. 19), cei de la The Mono Jacks vor lansa noul lor album de studio intitulat Gloria! Biletele se gasesc in avans pe www.iabilet.ro si in reteaua IaBilet la pretul de 40 de lei (earlybird – numar limitat) sau 50 de lei (presale).
The Mono Jacks – Gloria (official audio)
https://youtu.be/hPLWvtDgCow
"Una dintre primele piese la care am lucrat este Gloria, care de altfel da si numele albumului. Gloria este un nume de femeie si imi imaginez ca este o femeie teribil de frumoasa. Gloria poate sa te insele, insa. Gloria poate sa te faca sa faci tampenii si cu toate astea o dorim cu totii. Gloria poate sa te faca sa infaptuiesti lucruri marete. Gloria te poate ucide. Gloria este o framantare sau cautarea unui sens. Gloria este sansa noastra de a deveni nemuritori. Si eu de ce as vorbi despre glorie daca nu cumva din dorinta ca tu sa-ti aduci aminte de numele meu?" - Doru Trascau
Intreg albumul The Mono Jacks – Gloria este disponibil pentru streaming si download pe retelele digitale urmand acest link:
https://smarturl.it/tmj-gloria.
www.themonojacks.com
http://fb.com/themonojacks
Biletele se gasesc in format electronic pe www.iabilet.ro si in magazinele Flanco, Carturesti, Metrou Unirii 1, Muzica, IQ BOX si pe terminalele Selfpay. Online, puteti plati cu cardul, Paypal,carduri de tichete culturale Sodexo, pe factura la Vodafone sau Orange sau ramburs prin Fan Courier oriunde in tara.