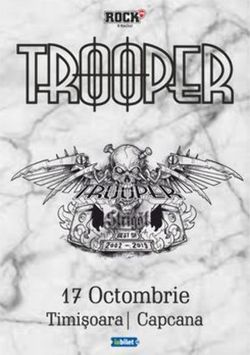 Club Capcana, Timișoara,
Timisoara
17 Octombrie 2020
//
30 LEI
In luna septembrie Trooper pornesc turneul "Strigat: Best of 2002 – 2019".
Dupa noua albume de studio lansate in decursul a 17 ani, Trooper pregateste lansarea unui material "best of". "Strigat: Best of 2002 – 1019" va aparea in format dublu CD, dublu vinil si digital. Cele 17 piese alese sunt remixate si remasterizate de celebrul inginer american Peter Rutcho (Parkway Drive, Deez Nuts, Revocation) in studioul in care a fost lucrat si "Stefan cel Mare – Poemele Moldovei". Majoritatea materialului a fost reimprimat pentru a avea uniformitate si o calitate superioara a sunetului.
Despre toate acestea, Coiotu' a declarat: "Am lansat primul album in 2002. De atunci am traversat prin mai multe generatii de ascultatori. O generatie se schimba cam la sapte ani. Prin urmare, am considerat ca a sosit momentul sa lansam o colectie "best of", asa cum o vedem noi dupa atatia ani.
Noua albume de studio inseamna ceva. Ne-am pus pe remixat si remasterizat pentru a le oferi prietenilor formatiei un material de colectie. Chiar asta o sa fie: un material de colectie. Esenta a tot ce este mai bun in discografia Trooper. Nu vreau sa spun cat de greu a fost sa alegem doar 17 piese din peste 100. Insa important este ca am ajuns toti sase la un numitor comun. Unele piese au fost reinregistrate in intregime pentru ca sursele initiale au fost pierdute. Vor exista si ceva surprize. Pentru pasionati, ne-am gandit sa punem pe piata si varianta vinil."
In cei peste 20 de ani de activitate, Trooper a lansat noua albume de studio, a cantat pentru mai mult de 600.000 de oameni, in peste 750 de concerte, si a urcat pe scena alaturi de Iron Maiden, Scorpions, Judas Priest, Whitesnake, Europe, Manowar, Nazareth, WASP etc.
Biletele sunt disponibile in reteaua IaBilet si in format electronic pe www.iabilet.ro, in magazinele Flanco, Diverta, Carturesti, Metrou Unirii 1, Muzica, IQ BOX, Uman si pe terminalele Selfpay. Online, puteti plati cu cardul, Paypal,carduri de tichete culturale Sodexo, pe factura la Vodafone sau Orange sau ramburs prin Fan Courier oriunde in tara.