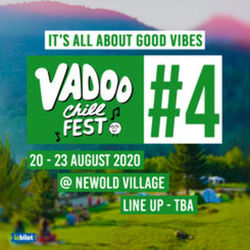 Vadu Oii, Gura Teghii,
Buzau
20 August 2020
-
23 August 2020
//
200-400 LEI
Pe 20 august 2020 incepe festivalul cu vibe unic in poiana de la Vadu Oii, unde ne lasam condusi de energia buna, ne reconectam cu natura si ne relaxam pe cele mai faine ritmuri de la jazz, alternativ, pana la reggae, funk sau electro. In trei cuvinte: Vadoo Chill Fest (editia a 4-a).
STUFF TO DO:
Chill Zone, Yoga, Meditatie, Ateliere de Percutie, Tatoo Corner, Olarit si multe altele.
GOOD TO KNOW:
- Vadu Oii este un sat din comuna Gura Teghii, nord-vestul judetului Buzau.
- Semnalul telefonului cam lipseste, dar nu-i vei simti lipsa.
- Intrarea copiilor sub 14 ani este libera, dar acestia trebuie sa fie insotiti de adulti.
- Vadoo Chill Fest este un festival in natura si incurajeaza protejarea si conservarea acesteia.
- It's all about good vibes!
LINE-UP: TBA pe Facebook si Instagram
Facebook: https://www.facebook.com/vadoofest/
Instagram: https://www.instagram.com/vadoochillfest/
Cazarea la cort este gratuita pe baza abonamentului de festival. Exista posibilitatea cazarii la pensiunile din zona, iar in descrierea evenimentului de pe Facebook veti gasi cateva sugestii.
BILETELE se pot cumpara in format electronic de pe www.iabilet.ro. Doar primele 100 de bilete se pot cumpara la pretul de 200 de ron.
200 Ron - Super Early bird - primele 100 de bilete
250 Ron - Early Bird - 1 Ianuarie - 30 aprilie
300 Ron - Summer Sale - 1 mai - 19 august
400 Ron - la intrare
It's all about good vibes!